Born James Alfred Wight in 1916 Sunderland, the author better known by his pen name James Herriot worked in veterinary practice for more than 50 years, and his time as a veterinarian informs his best-known and most beloved books.
Though he had dabbled in writing throughout his life, he only seriously turned to attempting to publish after he was 50 years old and had already been a practicing vet for decades. Because regulations from the Royal College of Veterinary Surgeons required that he not advertise, he wrote his first successful books under a pen name, in this case James Herriot, taken from the name of footballer Jim Herriot of Scotland, after Wight saw Herriot playing at Birmingham City.
In the years since he began publishing, Wight (as Herriot) has authored numerous books, most of them about animals and his experiences as a vet. Kicking off a successful franchise, Herriot's books have remained in print for decades and inspired films and a successful, 90-episode BBC television series, among others.
As well-loved as they are, however, getting into Herriot's books for the first time can be a bit confusing, as they were published in the UK and the States in different editions, under different titles. Not to worry, though—we can help you navigate them.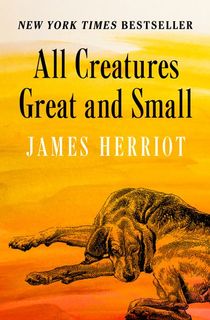 All Creatures Great and Small
Herriot's first two books in the UK were If Only They Could Talk and It Shouldn't Happen to a Vet. Both chronicled his adventures and experiences working as a young country vet in the Yorkshire Dales.
The first of these was published in 1970. When it came time to bring them to the States in 1972, however, his publisher decided to combine them into an omnibus volume, a technique that would be continued for the next few installments of his ongoing series.
Herriot chose to call this omnibus All Creatures Great and Small, taken from the second line of the hymn "All Things Bright and Beautiful." This would come to be the name by which the entire series was best known, both here and across the pond.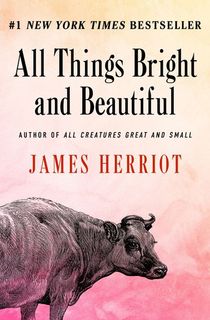 All Things Bright and Beautiful
Continuing the approach of combining two UK volumes into a single omnibus stateside, All Things Bright and Beautiful brought together the stories originally contained in Let Sleeping Vets Lie and Vet in Harness, originally published in 1973 and 1974, respectively.
These also continue the saga of Wight's own experiences as a country vet, chronicling events through the years, including his own marriage and the many unforgettable characters – both human and animal – that he met in his practice throughout the dales.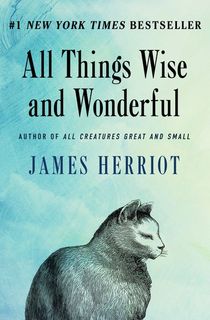 All Things Wise and Wonderful
The last of the omnibus volumes is far from the last of Herriot's unforgettable stories. Combining works originally published as Vets Might Fly and Vet in a Spin, this third collection sees its narrator entering World War II as part of the RAF, again drawn from Wight's own real experiences.
For those who loved the gentle and pleasant nature of Herriot's earlier books, however, fret not. The darkness of the war cannot cast a pall over Herriot's love for animals, friends, and his own family, including his wife, who is about to have a baby in this unforgettable volume.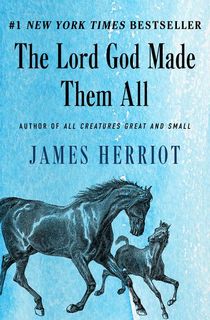 The Lord God Made Them All
At the time of its publication in 1981, The Lord God Made Them All was the culmination of Herriot's vet stories, tying together both the original UK publications and the stateside omnibus editions with a title that brought the two together.
In it, Herriot returns from World War II to settle in with his wife and new family, only to find himself facing new challenges – not only of fatherhood, but in his veterinary practice, including escorting a boatload of sheep to Russia, and much more. Find out why the Washington Post calls this "Herriot at his best."
James Herriot's Favorite Dog Stories
Collecting stories about dogs from all of Herriot's previous volumes, this is the perfect book for dog lovers, and it also boasts some new writing from Herriot, specifically talking about his own dogs that he has owned throughout the years.
Companion volumes, collecting favorite cat stories, Yorkshire stories, and various animal stories from Herriot's memoirs, were published a few years later, as well.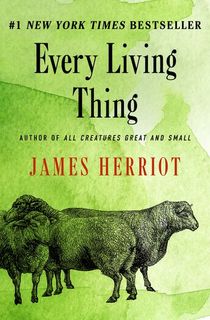 Every Living Thing
More than a decade passed between the publication of The Lord God Made Them All and the next book in Herriot's ongoing saga, Every Living Thing, released in 1992. By then, Herriot was beginning to retire from the veterinary practice, after more than 50 years of treating animals, and as a result, the nature of the stories told in Every Living Thing is different from those in his earlier books.
In Every Living Thing, he treats more house pets than livestock, and he has begun to train a new generation to take his place. In fact, he had retired from full-time practice by the 1981 publication of The Lord God Made Them All, and fully retired about the time Every Living Thing was released – by which time he was over 70 years old.
Indeed, Herriot passed on just a few years after the publication of Every Living Thing, and all but one of his subsequent books were published posthumously.
James Herriot's Cat Stories
The last of his books to be published during his lifetime, James Herriot's Cat Stories is the ideal companion to his Dog Stories, and the perfect gift for cat lovers. With ten warm and unforgettable stories of felines great and small, this book includes such beloved figures as Olly and Ginny, the cats who lived in the log shed behind Herriot's home and ate dinner on his retaining wall for years, but could never be coaxed inside.
First introduced in Every Living Thing, these cats get to star in several of the stories in this volume and have been beloved by readers for decades.
James Herriot's Yorkshire Stories
Originally released as an illustrated hardcover in 1998, just three years after Herriot's death, this volume can be seen as a sort of "best of," collecting 10 of the best-known and most well-loved stories from Herriot's previous volumes. Yorkshire Stories details
his work as a country vet in the Yorkshire Dales, as he encounters unforgettable animals and people in his practice, through classic stories told with warmth, humanity, and humor.
James Herriot's Animal Stories
Like Dog Stories, Cat Stories, and Yorkshire Stories before it, this volume, not published until 2015, brings together fan-favorite stories from Herriot's previous books, hand-picked by his real-life son, Jim Wight.
These "James Herriot's Stories" books may be old hat to those who have read the entire All Creatures Great and Small saga, but they make perfect gifts for animal lovers or those who are new to Herriot's work.
Featured Image: Cover of All Creatures Great and Small, paperback edition