Love him or hate him, Jeff Bezos changed the way we shop, the way we do business, and much of the rest of the world in which we live. Whether that was for the better or the worse depends upon who you ask, and if you haven't made up your own mind yet, these four books are bound to help you figure it out, while also helping you to make sense not only of one of the world's richest and most influential people, but also the world in which we live today.
A computer engineer born in Albuquerque, Bezos started Amazon in 1994, and the world of online commerce – and, frankly, everything else – has never been the same. By 2017, he was considered the world's wealthiest person, a title he held until 2021, when he was surpassed by Elon Musk. He was the first centibillionaire (person whose net worth exceeds $100 billion) listed in Forbes' annual ranking of "The World's Billionaires."
In addition to overseeing Amazon and its many, many affiliate companies, Bezos has gone into everything from space exploration to artificial intelligence. Despite his vast wealth and public profile, however, there are many people who don't know much about Bezos, beyond the fact that he's "the guy who owns Amazon."
How did an online bookseller become one of the world's most profitable – and influential – businesses, and who is the man behind it all? These four authors break down different aspects of Bezos' life, his business, and his legend, to show you not only who he is, but how he came to exercise an outsized influence on the world stage… and what that means for the future of everyone, everywhere.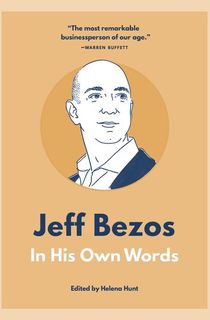 Jeff Bezos
What better way to learn about someone than hearing it from the proverbial horse's mouth? Helena Hunt has made a name for herself by releasing books collecting quotes from famous and often inspirational individuals (Taylor Swift and Ruth Bader Ginsburg occupy two of her other volumes) in order to give a portrait of the person through their own words. In the case of Jeff Bezos, this means more than 500 quotes from the man himself – though the cover actually quotes another famous business magnate, Warren Buffett, who called Bezos "the most remarkable businessperson of our age."
That's it for outsiders, though. From there on it's Bezos' show, with quotes that detail his approach to business, his outlook on life, and what he sees for the future, both of his own business and the world around him. It's a portrait of "a man who wants to push the future forward – and will inspire readers to do the same." And even if it doesn't, it's a good place to start getting to know one of the most significant entrepreneurs of our time.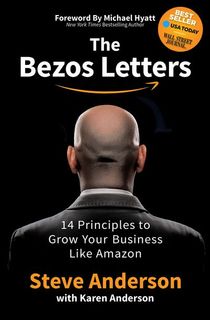 The Bezos Letters
In The Bezos Letters, business analyst Steve Anderson breaks down many of Bezos' private letters to shareholders, which detail the business plans that helped to make Amazon one of the most profitable companies in history. Think of it as, essentially, an outsider's guide to an insider's look at Amazon's business practices. Through Bezos' letters, we can see the thought process behind not only what the company chooses to do (and not do) but what Bezos shares with the people who are invested in his business. It's a unique look into just one small aspect of one of the biggest businesses in the world.
Related: The Best Stock Market Books for Beginners
From these, Anderson extracts fourteen "growth principles" that he believes can be applied to even the smallest startup that can help to emulate some of Amazon's massive success, and lays out how they have come to change the thinking in business, and how they can be applied to our own lives every day.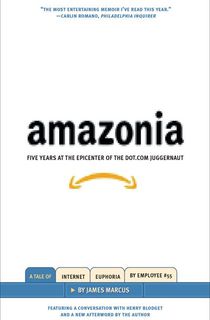 Amazonia
If The Bezos Letters was an outsider's guide to an insider's look at Amazon, then James Marcus' fascinating memoir is an insider's guide written with the eye of an outsider. Marcus was one of Amazon's earliest employees, hired by the company all the way back in 1996 – when his business email address could still be "james@amazon.com." In this memorable, witty, and sometimes harrowing personal account, he covers everything from his first interview with Jeff Bezos himself to the rise, fall, and meteoric second rise of the internet giant, told through the lens of the volatile tech sector of the '90s.
Related: The Best Business Books to Read Right Now
"Marcus tells his story with wit and candor," says Booklist, in what Newsday calls "a clear-eyed, first-person account, rife with digressions on the larger cultural meaning throughout." If the last two books on our list have been tales of Bezos, the entrepreneur, often through his own eyes and words, then Amazonia is a story of the giant that he created, what it was like to be there for its birth, and how it grew into the behemoth we know today.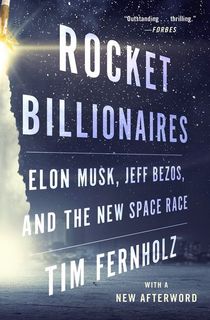 Rocket Billionaires
Even as Elon Musk and Jeff Bezos were jockeying for position as the world's richest individuals, they were also competing on another playing field – a private space race, as the two billionaires funded rival space programs to send private rocket ships into orbit. Tim Fernholz, a reporter at Quartz, has been following this unlikely rivalry since its earliest days, and chronicles it all in this "outstanding" (Forbes) book that "provides smart analysis of the New Space sector as well as historical context about NASA's triumph and failures." (The New York Times Book Review)
Will this privatized push for the stars see the salvation of humanity, or is it a costly cul-de-sac for two overweening billionaires with too much pride and money to burn? The answers may still be waiting in the future, but in the meantime, Fernholz's book brings to light "shiny nuggets about the origins and evolution of the billionaires' space dreams," (GeekWire) while offering up a readable and compelling modern history of contemporary space flight, and what promises it might hold for the future.