Master of the historical family saga, author Taylor Caldwell was fascinated with the idea of the American Dream–its pursuit, its achievement, and its consequences. Known for her suspenseful and intricate plots, Caldwell's novels are portraits of life in a rapidly changing America, where European immigrants fought tirelessly for their dreams.
Caldwell herself was no stranger to displacement and the daily grind. Despite personal and financial hardship, she paid her way through college, survived life in the Kentucky wilderness, and emerged as one of the most famous female authors of her time.
At its core, Caldwell's work exposes the tenuous relationship between success and happiness, ambition and family. Since her debut in 1938, her epic family sagas have enchanted readers worldwide, selling over 100 million copies.
Below is a list of some of her New York Times-bestselling titles–required reading for any historical fiction fan, particularly if you like John Jakes, Susan Howatch, James A. Michener, and Herman Wouk.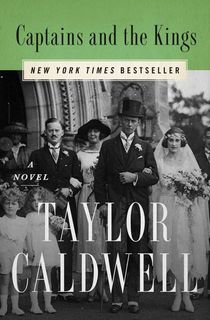 Captains and the Kings
Taking place over 75 years, this sweeping family saga follows one man's dogged ascent to power. Having survived the rough passage from Ireland, immigrant Joseph Armagh finds further misfortune awaiting him in his new home.
Despite the adversity that follows, the characters of Captains and the Kings stop at nothing to achieve success—even the U.S. presidency—and carve their place into a world that scorns them. It's a thought-provoking testament to the power of perseverance and the limits to which we can stretch ourselves for the sake of our dreams.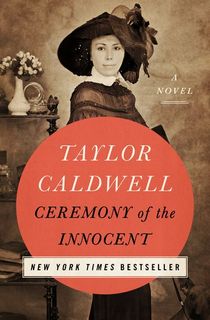 Ceremony of the Innocent
Like Captains and the Kings, this New York Times bestseller is another take on success and wealth in America. Ellen Watson sheds her poverty-stricken roots when she marries the scion of a powerful political dynasty.
But soon, tragedy strikes, and Ellen must face the simultaneous collapse of her country and her personal life. Though set in the early 20th century, Ceremony's commentary on lost innocence and integrity is shockingly relevant in our present-day America.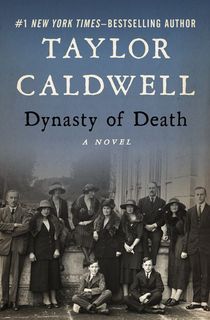 Dynasty of Death
In Taylor Caldwell's impressive debut, two immigrant families join forces and give rise to the American armament industry. In what would become her classic style, Dynasty of Death is populated by an enthralling cast of characters whose opposing ideals make for a suspenseful historical drama.
It is family against family, brother against brother as violence, jealousy, and personal ambition threaten to destroy the bonds of blood.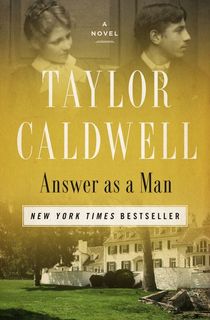 Answer as a Man
Taylor Caldwell's final novel, Answer as a Man, is a "first-class" reimagining of the Book of Job (The New York Times). Again, the best-selling author weaves a rags-to-riches tale where an Irish family struggles in their new land. But eventually Jason, the go-getting and passionate son, escapes the mires of his troubled upbringing and finds success in the Pennsylvanian business world.
Throughout the novel, Caldwell tests Jason's strength as secrets and marital deception endanger his American Dream.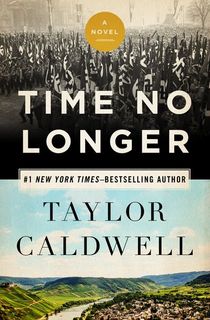 Time No Longer
Caldwell's tale of family and brotherhood is set against the backdrop of WWII. As the drama unfolds–twin brothers clash and cut ties, Nazis kill their sister's husband, and Hitler takes Germany in his iron fist–Caldwell's characters must forgive and unite to survive in their increasingly hateful world.
It's a story that strikes a frighteningly familiar chord, given our current political climate—and one that proves we can overcome if we stand together.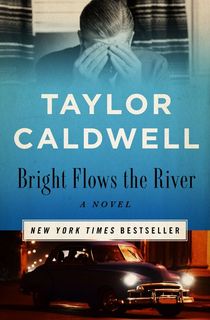 Bright Flows the River
When powerbroker Guy Jerald attempts suicide, the illusion of his American Dream begins to crack. Only a man from his past can ease his despair and, together, both men must confront old regrets and mistakes.
A story of hope, friendship, and self-rediscovery, Bright Flows the River show us how success does not always equate to happiness. But through faith and forgiveness, we can start anew—and become the person we have always wanted to be.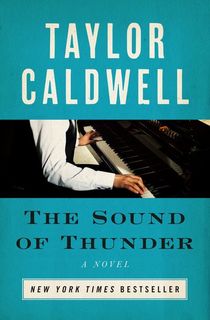 The Sound of Thunder
Thematically similar to Bright Flows the River, The Sound of Thunder exposes the limits of money and power. Defying his humble beginnings as an immigrant's son, Edward Enger has transformed his father's deli into a New York empire. But even so, he is haunted by the ghosts of his childhood, and with a self-worth determined by wealth and status.
When his longtime love marries another man, Edward grows more ruthless in his ventures, collecting enemies as quickly as he amasses debts. Underlying it all, is Thunder's central question: what defines success, and is it truly worth the price of our soul?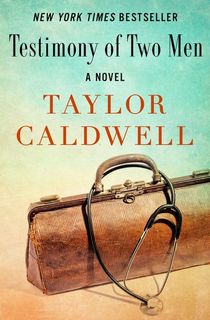 Testimony of Two Men
Though acquitted of his wife's murder, Dr. Jonathan Ferrier cannot escape the judgment of his fellow townspeople or their further accusations. Only Robert Morgan, a young doctor at Ferrier's practice, is willing to give Ferrier the benefit of the doubt.
Throughout the story, Caldwell provides glimpses at early modern medicine—revolutionary for its time—while she explores the redemptive and damning powers of love and faith.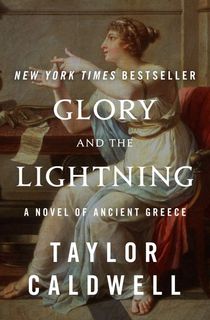 Glory and the Lightning
In this Caldwell classic, readers are transported to ancient Greece and inside the love affair between Aspasia and Pericles. When Aspasia, a clever courtesan, falls in love with Athenian ruler Pericles, she becomes entrenched in a world of political turmoil and scandal.
Caldwell paints a picture of a shockingly modern woman whose ability to rise amidst a war-torn, patriarchal society will inspire male and female readers alike.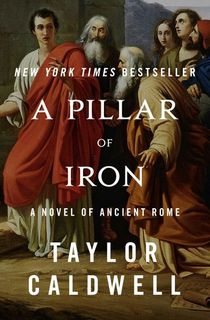 A Pillar of Iron
With the same mastery of plot and attention detail found in Glory and the Lightning, Caldwell breathes life into ancient Rome and legendary philosopher-slash-orator, Marcus Tullius Cicero. Featuring some of history's most renowned figures (Julius Caesar and Mark Antony, for instance), Caldwell based her story on extensive historical research, including speeches, private correspondence, ancient texts, and manuscripts.
Thus, A Pillar of Iron is more than a compelling epic from one of our most gifted storytellers. It's also an in-depth look at ancient Roman life.