"As long there is a need for self-discovery, self-empowerment, as long as there is a need for victory in someone's life, as long as there is a need for people to know what it feels like to be loved up and to be made full and hold to somebody else's love, there will be a need for 'The Color Purple.'" So explained Oprah Winfrey, a producer for the musical adaptation, when asked why the story needed to be retold yet again, almost 40 years after the highly lauded book adaptation.
Based on the Pulitzer Prize and National Book Award-winning novel by Alice Walker, The Color Purple is set in early 1900s Georgia. The often banned book follows Celie, a young Black woman who is abused and raped by her father and then her husband. Celie helps her younger sister Nettie escape the same fate, but when she doesn't write, Celie assumes Nettie has died.
Celie and the women around her continue to suffer, but as she tells her story, Celie somehow manages to see the beauty in the world. "I think it pisses God off if you walk by the color purple in a field somewhere and don't notice it. People think pleasing God is all God cares about. But any fool living in the world can see it always trying to please us back."
In 2004, The Color Purple was adapted into a Tony-nominated musical. The show was revived in 2016 and starred Cynthia Erivo, earning two Tony awards for best musical revival and best actress.
Now, the musical is coming to the big screen. The star-studded cast includes Fantasia Barrino as Celie, Danielle Brooks as Sofia, Halle Bailey as young Nettie, Taraji P. Henson at Shug Avery, and Colman Domingo as Mister.
The film will premiere in North American theaters on December 25, 2023. Watch the trailer below.
Can't wait for the movie? Revisit the original novel!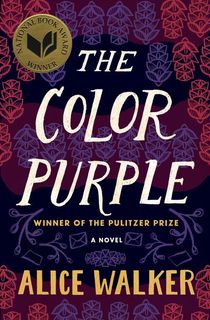 The Color Purple
Lauded as a literary masterpiece, this is the groundbreaking novel that placed Walker "in the company of Faulkner" (The Nation), and remains a wrenching—yet intensely uplifting—experience for new generations of readers.