May 8 marks the anniversary of Victory Day, when the allies accepted Germany's unconditional surrender in 1945 and thus ended World War II in Europe.
And though that day may have marked the end of the six-year war, its seismic repercussions are still felt today, in films and books that explore different aspects of the conflict that changed the world forever. As W.H. Auden wrote in his poem, "September 1, 1939," in response to the outbreak of the war, "All I have is a voice / to undo the folded lie."
These 12 World War II novels are just the tip of the iceberg of a very rich cultural and historical fount that continues to inspire writers and readers today.
The Nightingale
Vianne Mauriac has no choice but to give up her home to a German captain when their small town in France is requisitioned by Nazi troops. Meanwhile, her younger sister Isabelle finds herself in the midst of the French resistance, throwing herself into harm's way to fight the Nazis from inside France. The Nightingale is a moving story about two sisters caught in the upheaval of war, and how their choices lead them in separate directions.
Life After Life
This epic novel from Kate Atkinson follows the many lives of Ursula, who is born one cold morning on 1910, only to die on the very next page. But wait! Ursula's back … this time, she lives a few days, then years, then several years—each life taking her down different paths and changing worlds. One life eventually brings her to Germany at the outbreak of war, and she finds herself nestled in with none other than Eva Braun, Hitler's girlfriend. How will Ursula's choices effect her, and the world? Life After Life is a deeply moving novel about the many lives we do (and don't) live.
(If you like Life After Life, be sure to read its sequel of sorts, which tells the story of Ursula's younger brother, Teddy, A God in Ruins.)
Catch-22
Heller's novel follows the bombadier Yossarian as he struggles to find a way to get out of flying suicide missions in Italy during WWII. The "Catch-22" is, if you're willing to fly these missions, you're insane—but if you make the request to be removed from duty, then you must be sane, and therefore eligible to fly. This now classic novel perfectly captures the terrifying absurdity of war, through Heller's deft use of humor and dialogue to prove a deadly serious point.
Slaughterhouse Five
While fighting in Germany during WWII, Kurt Vonnegut was captured and held prisoner, becoming witness to the bombing of Dresden in February 1945, which killed over 23,000 people. His 1969 novel follows the story of the naïve Billy Pilgrim, as he navigates the fog of war, inspired by true stories from Vonnegut's harrowing experience, Slaughterhouse Five is perhaps one of (if not the greatest) anti-war novels ever written.
Suite Française
Similar in plot to Kristin Hannah's The Nightingale, Irène Némirovksy's novel Suite Française came first. The book, which tells a series of vignettes of life in France during the war, including a French woman's love affair with the Nazi who invades her home during requisition, was found amongst her papers by her daughters decades after she had written it. Némirovksy never had the chance to finish the book, much less publish it, as she was murdered by the Nazis at Auschwitz at the age of 39.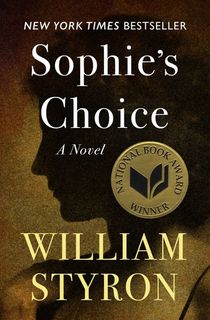 Sophie's Choice
Styron's 1979 novel was inspired in part by a horrific story included in Hannah Arendt's Eichmann in Jerusalem. But its general themes are more about life post-war, and the seeming impossibility of moving on from being a witness to absolute evil—or, in Sophie's choice, a victim of total and absolute evil.
Despite the fact that the book was published 34 years after the end of WWII, its devastating portrayal of the Holocaust was controversial because of its focus on the event as seen through the eyes of one woman.
The Reader
This German novel about one boy's sexual awakening takes a very different turn when he learns the true identity of his older lover, Hanna.
As the critic Ruth Franklin has pointed out, poet and playwright Bertold Brecht called the German generation after WWII the "Nachgeborenen," or literally, "those who came after." Through the relationship of Hanna and Michael, Schlink captures the mystery and danger surrounding identity and history in post-war Germany.
Everything Is Illuminated
Jonathan Safran Foer's critically acclaimed debut novel follows a young man (also named Jonathan Safran Foer) who travels to Poland to search for a woman named Augustine who supposedly saved his grandfather's life during the Holocaust.
As JSF's journey unfolds, the history of the shetl where JSF's mother was born, Trachimbrod, is told in a side-by-side narrative. Soon, JSF discovers the truth of what happened during the war is not so clear.
Atonement
English author Ian McEwan did copious amounts of research about the battle of Dunkirk and the London blitz to tell the story of Cecilia and Robbie, whose love affair is tragically cut short when Robbie is accused of rape by Cecilia's misled younger sister Briony. This epic saga, about love, war, and the stories we tell ourselves in order to get through the day is an incredible love letter to the importance of history, and more importantly, literature.
All the Light We Cannot See
Winner of the 2016 Pulitzer Prize for Literature, All the Light We Cannot See tells the story of a love affair between a French girl and a German boy whose paths collide in occupied France. One of the most acclaimed novels of the last ten years, the novel plays on the human hope for goodness despite the nefarious confines of war and conflict.
Closely Watched Trains
Czech writer Bohumil Hrabal's novel about a young man who works in a train station in German-occupied Czechoslovakia is a masterpiece of postwar fiction. The brief but brilliant 85-page novel was adapted into a film in 1967 that went on to win the Academy Award for Best Foreign Film. Hrabal, who is considered by most Czechs to be the best writer of the 20th century, is still largely unknown in America, and only a handful of his novels have been translated into English.
(If you like Closely Watched Trains, be sure to read his other books, I Served the King of England and Too Loud a Solitude.)
Austerlitz
It's nearly impossible to summarize the plot of the life-changing novel that is Austerlitz, by German author W.G. Sebald. Published in 2001, it follows the exploits of an architectural historian named Austerlitz, who travels to Antwerp to meet a friend.
Eventually we begin to understand that the friend was part of the kindertransport, the operation that saved children from the Nazi regime by bringing them to live with new families—in this case, in Wales. As Austerlitz and his friend travel through Europe, he recounts (and discovers) what became of his family during the war and of European civilization, through the ruins of libraries, theaters, and entire cities.