Everyone's favorite simple-minded, "hunny" loving bear, Winnie-the-Pooh has been a beloved children's character for generations. A.A. Milne's classic stories never fail to remind us of the wonders of our imagination, the power of a good friend, or the satisfaction that comes from a fresh pot of honey.
Below are 10 of our favorite quotes from Winnie-the-Pooh. If we missed your favorite, let us know on Facebook or Twitter!
1. "People say nothing is impossible, but I do nothing every day." —Winnie-the-Pooh
2. "I think we dream so we don't have to be apart for so long. If we're in each other's dreams, we can be together all the time." —Winnie-the-Pooh
3. "You're braver than you believe and stronger and smarter than you think." —Winnie-the-Pooh
4. "I am not lost, for I know where I am. But however, where I am may be lost." —Winnie-the-Pooh
5. "Sometimes, the smallest things take up the most room in your heart"―Winnie-the-Pooh
6. "A little consideration, a little thought for others, makes all the difference." —Winnie-the-Pooh (Eeyore)
7. "Could be worse. Not sure how, but it could be."—Winnie-the-Pooh (Eeyore)
8. "The things that make me different are the things that make me." —Winnie-the-Pooh (Piglet)
9. "A hug is always the right size."—Winnie-the-Pooh
10. "Some people care too much. I think it's called love."—Winnie-the-Pooh
Want more? Download the classic now!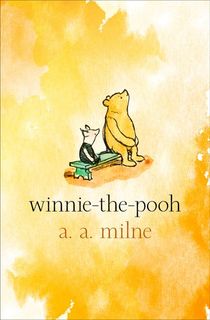 Winnie-the-Pooh
The original classic—starring Christopher Robin, his silly old bear, and a forest full of friends…
Prepare for fun with young Christopher Robin and his stuffed animal friends. There's his teddy bear, Winnie-the-Pooh; the timid toy pig, Piglet; the gloomy donkey, Eeyore; and the toy kangaroos, Kanga and her son, Roo. There are live animals, as well: the scatterbrained Owl and the practical Rabbit.
Come along as they go on adventures, like Pooh using a balloon to get honey or Piglet meeting a Heffalump. Join the search for Eeyore's missing tail or help celebrate his birthday. Find out what happens when Pooh visits Rabbit's house or when Piglet is trapped by a flood. Whatever the occasion, you'll enjoy the time you spend with Winnie-the-Pooh in the Hundred Acre Wood.