She flies planes! She carries a handgun! She—gasp—wears pants! She is Miss Phryne Fisher, and she certainly isn't your grandmother's sleuth.
Set in 1920s Australia and first published in 1989, Kerry Greenwood's Phryne Fisher mysteries were a departure from the historical whodunit norm. In a genre that was populated by mostly Miss Marple types—lovable but mousy old ladies—Phryne was a breath of fresh air. Tough-as-nails and always dressed to the nines, she's a vivacious fashionista who outwits any criminal that comes her way. Her innate intelligence and shameless appreciation for all things glam were normally considered mutually exclusive. But Phryne busted these outdated myths surrounding true "femininity," proving that you can be super smart and wear killer vintage threads.
In 2012, the books were adapted into an Australian television series titled Miss Fisher's Murder Mysteries, and was subsequently picked up by Netflix in 2014 for distribution in the U.S., U.K., and other countries. Though we're not sure if we'll see a series four of the show—series three aired in 2014—thankfully, there are more mystery books that feature Phryne-style heroines. From Patricia Wentworth's underappreciated Miss Maud Silver to Rhys Bowen's Lady Georgiana Rannoch, these female sleuths will win over fans of the Miss Fisher mysteries. Now let's keep our fingers crossed that we get a movie adaptation!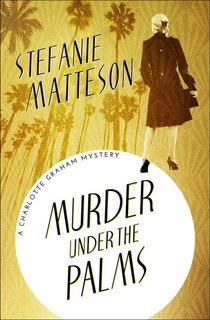 Murder Under the Palms
Charlotte Graham, the star of Stefanie Matteson's series of mysteries, belongs to Phryne Fisher's class of sleuth. A longtime Hollywood starlet, she's glamorous, unflappable, and loves a good party as much as a mystery. Murder Under the Palms sees Charlotte reunite with her former beau, Eddie—whom she met on board the SS Normandie—at a charity gala, post World War II. Just as things between the lovebirds are heating up, a woman is murdered in cold blood. Can Charlotte find the killer, rekindle her shipboard romance, and manage to squeeze in some time for bubbly?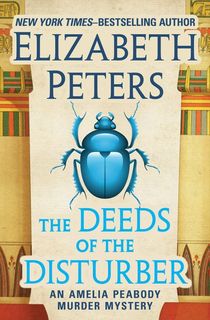 The Deeds of the Disturber
Amelia Peabody stands alongside Phryne Fisher as one of the most beloved lady sleuths of contemporary fiction. She's similarly ballsy, intelligent (she's a female Egyptolist in the 18th century!), and certainly no damsel. In this fifth Peabody mystery, a death at the British Museum sends its employees into a frightened frenzy. Many believe an ancient mummy curse is at play, though Amelia suspects a more warm-blooded criminal is to blame. Between her search for the killer, occasional feminist rants, and personal domestic dramas, Disturber shows an Amelia that Phryne herself would gladly befriend.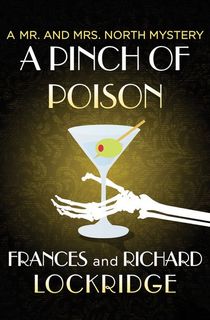 A Pinch of Poison
Jerry and Pamela North are the married crime-solving force created by real-life husband and wife Frances and Richard Lockridge. The third installment of the series involves a woman who literally picks her poison—dying after taking a fatal sip of a tampered Cuba libre. The NYPD is called to the scene, but it's their close pals, the Norths, who have what it takes to crack the case. This time, though, Jerry and Pamela have to keep their friends close, and their martinis even closer—or they risk suffering the same fate. Between the couple's witty exchanges and 1930s glamour, Miss Fisher fans will certainly find something to love.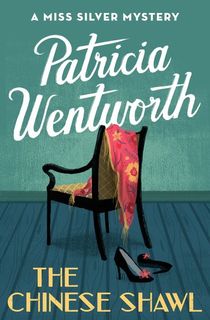 The Chinese Shawl
Miss Maud Silver was a stand-up gal who paved the way for today's crop of female detectives, including Miss Fisher. Granted, Maud is more "charming librarian" than "fashionista" (and she couldn't care less about money), but she does share Phryne's no-nonsense attitude, and unexpected ingenuity. Written in 1943 and set during a mansion party, The Chinese Shawl follows Maud's hunt for the murderer of an up-and-coming actress—a mystery that is twisted up in romantic jealousies and betrayals.
Speedy Death
Give Phryne a couple of years and she'll undoubtedly evolve into Adela Bradley, the 50-something heroine of Gladys Mitchell's historical mysteries. Adela is a snarky, fiercely independent "older" woman who understands the human mind, has a closet full of cloche hats, and is a stalwart champion of women's rights. We first meet her in Speedy Death when a party turns deadly, and Adela must determine which of the guests have blood on their hands. Check out the BBC adaptation of the series starring Diana Rigg after you've read the book!
Naughty in Nice
As the 34th in line to the British throne, Lady Georgiana Rannoch has a royal title but not a lot of money. After being denied her allowance, she falls into amateur detective work—calling up her wit and charm to bust crooks in 1930s London. In the fifth book in the Royal Spyness series, she's sent to Nice, France on behalf of the Queen Mum, whose tasked Georgie with recovering a valuable snuff box. Throw in an appearance from Coco Chanel, French Riviera glitz, murder, and romance—and you've got yourself a breezy whodunit no Kerry Greenwood devotee should miss.
After the Armistice Ball
In Cocaine Blues, Phryne reveals she discovered her detecting skills after catching the thief of a stolen necklace. It's much the same for Catriona McPherson's Dandy Gilver, who makes her sleuthing debut on a similar case in After the Armistice Ball. A restless 1920s aristocrat with a knack for snooping, she launches her own investigation into a friend's missing diamonds. But when a killer strikes and no one, save Dandy, suspects foul play, what other choice does she have than to follow her gut? Now, this high society woman must defy the rules of her Victorian society in order to solve the puzzle before the body count rises.
Stephanie Plum One, Two, Three
Okay, so this Janet Evanovich series is contemporary, not historical, and more thriller than mystery—but hear us out. Stephanie Plum is of the same stock as the gun-wielding, sex-postive Phryne. Described as a Nancy Drew/Dirty Harry hybrid, she transitions from lingerie buying to bounty hunting—a career choice that has led (so far) to 24 slapstick crime adventures. Like Phryne, she's got her own quirks—Stephanie likes food as much as Phryne likes fashion—and is confident, scrappy, and pretty darn lovable. Ignore the terrible Katherine Heigl movie, and pick up the first three books.
Death at Wentwater Court
Another 1920s mystery, Death at Wentwater Court stars Daisy Dalrymple, the daughter of a Viscount and an aspiring writer. At the risk of being scorned by her rich family, she trades a life of tea parlors and nepotism for one of freedom and journalism. Her first assignment takes her to a country estate, though her research is derailed by domestic squabbles and a skiing "accident." When Scotland Yard detective Alex Fletcher comes to investigate, he takes Daisy under his wing—and so begins a romance, an exciting adventure, and a passion for amateur sleuthing.
This post is sponsored by Open Road Media. Thank you for supporting our partners, who make it possible for Early Bird Books to continue publishing the book stories you love.
Featured still from "Miss Fisher's Murder Mysteries" via ABC
KEEP SCROLLING FOR MORE STORIES