After receiving her education, publishing poetry, and finding success as an ad copywriter, Dorothy Sayers dipped her toe into the world of detective fiction. The genesis of one of her most beloved characters—the very noble Lord Peter Wimsey—came as a light bulb moment in the early 1920s. With the simple introductory exclamation, "Oh damn!," Wimsey won over thousands of hearts and, eventually, found a spot in the pantheon of iconic fictional detectives.
Allegedly based on Fred Astaire and Bertie Wooster, Wimsey is akin to Agatha Christie's Hercule Poirot—a prime example of a Golden Age "gentleman sleuth." The son of a duke, Wimsey is a man of refined tastes and hobbies—particularly drinking fine wine, dressing in high-quality men's fashion, and collecting rare and expensive books. For Sayers, writing a character with money was a way of forgetting her own financial woes: "When I was unsatisfied with my single unfurnished room," Sayers once wrote, "I took a luxurious flat for him in Piccadilly."
Related: 10 Cozy Mysteries for Armchair Detectives
But Wimsey isn't without substance either: When we first meet him in Whose Body?, he's suffering from PTSD flashbacks, having served in the trenches of World War I. He's also a quick-witted and well-mannered do-gooder, who's genuinely invested in his cases despite little personal reward. These qualities captivated Sayers and her readers, but also Harriet Vane—the series' heroine, who noticeably shares many similarities with her creator. Vane appears in several of the Lord Peter Wimsey books and makes everyone's favorite debonair detective an (even more) honest man.
Lord Peter Wimsey is the star of various short stories and eleven novels, all written by Sayers in the 1920s and 1930s. Jill Paton Walsh took up the Wimsey-Vane mantle in 1998—nearly four decades after Sayers' passing in 1957—and completed one of the author's unfinished manuscripts. She went on to write three other installments set in the World War II era, the latest of which is 2014's The Late Scholar. But wherever and whenever Lord Peter is sleuthing around, he's always irresistibly charming and clever—much like the woman who created him. Look below to learn more about the original Lord Peter Wimsey books by Dorothy Sayers.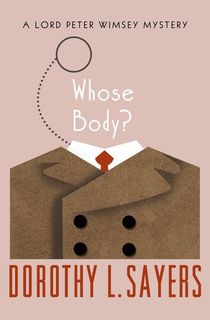 Whose Body?
When an architect sees the mess in his bathroom, he's even more desperate for a good scrubbing: A corpse is lying in his tub—wearing only a pair of golden pince-nez glasses. But who is the woman, exactly, and why has her killer left her in nothing but her birthday suit? Those are questions only Lord Peter Wimsey can answer, and he's more than up to the task: Though he's haunted by flashbacks of the war, he's still 1920s London's most stylish, esteemed private eye. When he isn't leisurely sipping brandy or adding to his extensive personal library, he'll be sleuthing around the city until the mystery—and victim—can be laid to rest once and for all.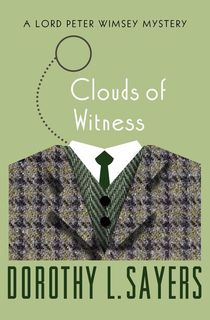 Clouds of Witness
Lord Peter is an expert at tracking down criminals, but he never suspected that his brother, Gerald, might be one of them. According to witnesses, Gerald was the last person to see their sister's fiancé alive—and their last encounter wasn't exactly cordial. Convinced that the marriage would tarnish Mary's honor forever, Gerald had confronted her future groom about his lascivious past...But did their confrontation truly come to blows or, more accurately, to gunshots? Leave it to Peter to determine if his own flesh and blood has blood on his hands—or if someone else is at fault.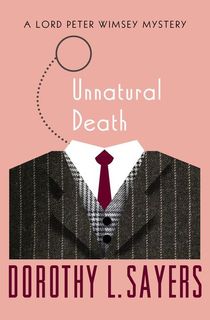 Unnatural Death
Agatha Dawson was always a stubborn old broad—and rich beyond all measure. But even a qualified oncologist, the support of her attentive niece, and Agatha's ironclad will cannot prevent her cancer from spreading. But with a predicted six months left to live, Agatha's fight ends much sooner—and her doctor believes foul play is at hand. He takes his speculations to the dashing Lord Peter, whose detecting prowess may be able to narrow down the ever-growing pool of suspects.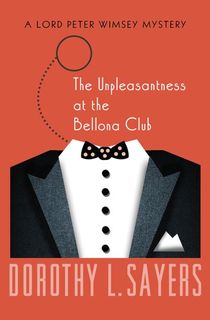 The Unpleasantness at the Bellona Club
It's Armistice Day, and a group of World War I veterans have gathered for a dreary celebration at the Bellona Club. As they bemoan their creaking bones and shell-shocked brains, the atmosphere of doom and gloom intensifies with familiar cries of "Man down, man down!" The victim, General George Fentiman, is a respected hero—but who has the chutzpah to murder a man amidst a crowd of his admirers? The answer becomes clear when Fentiman's sister follows him to the grave, leaving their hefty inheritance vulnerable to schemers and swindlers. Someone is after their money, Lord Peter knows—but he'll ensure it never falls into the killer's hands.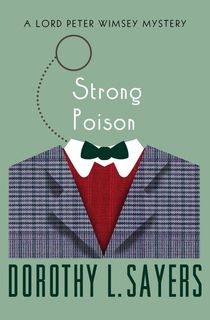 Strong Poison
Strong Poison is a pivotal installment of Sayers' series, as it introduces spunky mystery novelist Harriet Vane. Here, her fiancé winds up dead, possibly felled by poisons Harriet had purchased just days before. But while law enforcement pushes for a death-by-hanging, the accused stands her ground, pleading "not guilty" to skeptical jurors. It's Peter who, after watching her first trial, rushes to Harriet's defense before she's destroyed by a second. But even more baffling than the court's blindness to Harriet's innocence is the pitter-patter of Peter's heart whenever she draws near...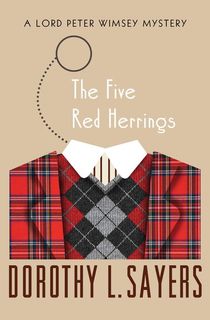 The Five Red Herrings
In a quaint Scottish village, a community of fisherman and painters share a hatred for the same person: Sandy Campbell, an insufferable man of middling artistic talent. Nobody sheds a tear when he unexpectedly plummets to his death, a half-finished project left in his wake. And while Peter Wimsey certainly isn't in mourning either, he does have a hunch that Sandy's demise wasn't an "accident"—but a murder committed by one of his many foes. Can the gentleman detective crack the case before he, too, suffers a tumble that cracks his skull?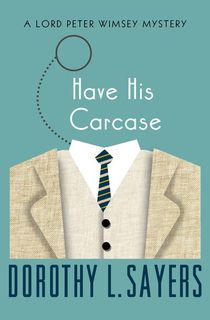 Have His Carcase
Harriet Vane is back for another adventure, though she has no intention of getting cozy with the detective who saved her life. Instead, she flees to the English coast, whereupon a beached body spoils her days of rest and relaxation. Of course, this isn't Harriet's first time at the murder rodeo—but when she dutifully reports the incident, the police return to a squeaky-clean crime scene. Now at the center of yet another puzzling mystery, Harriet will also find herself the center of Peter Wimsey's most ardent affections.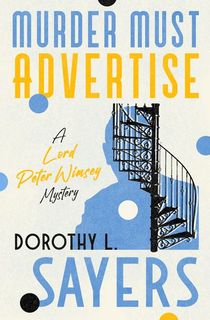 Murder Must Advertise
Ad man Victor Dean is dead of a fatal stairway fall, and who better to replace him than copywriter Death Bredon? Make that Death Bredon, nee Lord Peter Wimsey, whose alarm bells are ringing. Now undercover at Pym's Publicity, Peter must wade through the sea of sharks to find the most soulless one of all: Victor's killer. Though Murder Must Advertise is obviously a detective story, it's also an exploration of ethics (or lack thereof) in the business world—one of the many times Sayers supplemented her mysteries with thoughtful commentary on other topics.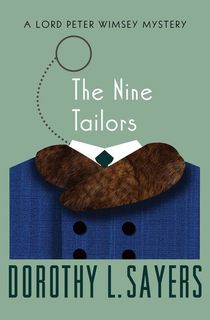 The Nine Tailors
With the new year approaching, Peter and his trusty butler are headed to a party when snowstorm blows them off-road. Luckily, they're offered shelter at the home of Reverend Venables, who informs his guests of the influenza currently scourging his parish. He recruits Peter to assist him in his latest project—using the church bells as a sort of death toll—though the job isn't the eeriest thing Peter will encounter during his stay. Soon afterwards, he's confronted by not just a mangled corpse but an ongoing mystery involving an elusive jewel thief.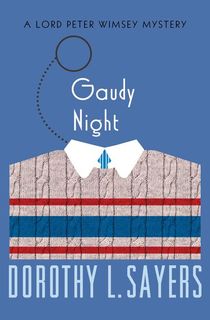 Gaudy Night
Of all the labels Harriet has earned—novelist, poisoner, Peter Wimsey's dream girl—she only enjoys the first distinction. Having brushed her past and Peter's proposals aside, she attends her college reunion with her head held high. That all changes when she receives a letter from an anonymous sender—one that not only threatens Harriet's life but forces her to call the man she vowed not to see. Peter hastily comes to her aid in Oxford, but can he manage to find the mysterious letter-writer and a permanent spot by Harriet's side? With it's support of women's education—quite controversial at the time—and criticism of sexist Nazi doctrine, Gaudy Night is oft considered the first feminist mystery novel.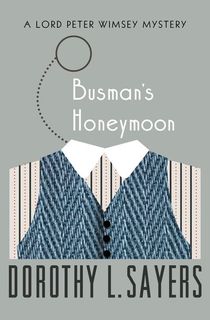 Busman's Honeymoon
Turns out, he can! In Sayers' final Wimsey original, Harriet and Peter are the talk of the town, enjoying a top-secret honeymoon after their high-profile wedding. But wherever the Vane-Wimseys go, trouble inevitably follows—even if it ruins their newlywed bliss. When a dead maid is found in a basement, Mr. and Mrs. must embark on an equally thrilling and unpredictable partnership: crime-solving.
Related: 10 Mystery Books Starring Husband and Wife Detective Teams
Featured photo: Public Domain
This post is sponsored by Open Road Media. Thank you for supporting our partners, who make it possible for The Archive to continue publishing the history stories you love.