On June 13, The New York Times released a new interactive game called Chess Replay. Created by chess grandmaster Daniel Naroditsky, the game puts solvers in the shoes of famous chess players during some of their most iconic matches.
The first chess puzzle published is based on a famous match between Josh Waitzkin, who was just 10 years old at the time, and chess master Edward A. Frumkin. It was a pivotal game for Waitzkin, who would eventually become an international master. His incredible story inspired his father Fred Waitzkin to write a memoir, Searching for Bobby Fischer, which would later be adapted into an Academy Award-nominated film.
Below, author Fred Waitzkin shares his memories from that critical game.
Last Monday, after an eight-year absence, the New York Times resurrected its chess column in a new interactive format. I'm honored to write that the first game selected for the new Times column was played in 1987 between my ten-year-old son, Josh Waitzkin, and chess master Edward A. Frumkin.
Long ago, though it feels like last week, Josh and I were a passionate team of two. When my son was a rough and tumble seven-year-old and his buddies were going to little league games and synagogue, he and I were spending weekends at chess tournaments. Between the ages of eight and eighteen Josh played in about a dozen national and world championships. Most often he finished in first place. I followed him around the world, grateful to play the supporting role, though I was the father. His great talent and passion for the royal game eclipsed most else in my life. I dreamed of his victories, of large plastic trophies, of chess moves he made that I didn't understand. I was a terrible player myself, but whenever he organized his army into a kingside attack I felt thrilled. When he lost I was wrecked.
Related: Fathering a Chess Prodigy: An Excerpt from Searching for Bobby Fischer
In 1987 Josh and I drove to Providence, Rhode Island, for a local chess event. In one of the later rounds my son was paired against an experienced chess master, Ed Frumkin. Josh had never beaten a chess master in tournament play, so this game was unusually fraught. The tournament was held in a dreary hall, but I couldn't have been more nervous had it been Carnegie Hall.
For many moves the game followed a conventional format. But then Josh left his rook on the back rank unprotected.
"I got up from the chessboard, tried to find my father," Josh recalled many years later. "I wanted to show him the rook sitting there unguarded."
Oh, no Josh! I didn't want to look at this. I tried to take back Josh's terrible blunder in my head.
Josh said, "I knew he'd be nervous, but I wanted him to watch. There were times I felt like I was playing the game for both of us."
When a good player sacrifices a piece in a chess tournament, spectators gather around the game. They can smell blood in the air. Someone is going to win. Someone is about to be crushed. There is a kind of violence in the air, and beauty.
Related: 7 Books About the Thrilling Game of Chess
I watched these last moves completely chess blind. Josh was down a rook to an experienced chess master. I felt a little sick. Oh well, I tried to calm myself, there will be other games for Josh to win.
"I scratched my head and looked nervously at the board," Josh reflected later. "I pretended I didn't know what to do next. I waited a while as if I were stumped…. Then I sacrificed my queen."
I was stricken. Now Josh gave away his queen, seemingly for nothing. Oh no!
"My dad gasped."
Everyone did.
Why has the kid done this? Why?
Ed Frumkin didn't know either. He thought he had just won the game.
"I wanted to see my dad smile," Josh recalled. "I knew I had him beat. I had forced mate in six. This was how I beat my first chess master."
To write about my feisty, funny, brilliant little chess player, the pain and ecstasy of his early career and its transforming effect on me—what a gift from my little boy, to give an author such a story to write.
Read more about Josh Waitzkin's incredible career in Searching for Bobby Fischer.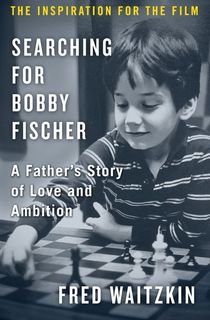 Searching for Bobby Fischer
"As intriguing as a Fischer-Kasparov match . . . Top-notch." —Kirkus Reviews