Noah Gordon passed away on November 22nd, 2021 at the age of 95. He was best known for his intricate works of historical fiction. With a total of nine books, Gordon found international success with his immersive novels.
Born and raised in a working-class neighborhood in Massachusetts, Gordon received a Bachelor of Science in Journalism, as well as an M.A. in English and Creative Writing from Boston University. Gordon initially set out to start his writing career as a freelance writer before finding work as a reporter during the late '50s. He wrote for several publications, including The Boston Herald.
Related: 19 Books to Read by Jewish Authors
It was around this time that Gordon began to grow increasingly fascinated with the progress being made in the medical field. He gained a relationship with the head of Harvard Medical School's pathology department. This would prove to be incredibly influential to his creative writing career, as well as his time as a reporter. Gordon went on to work as an editor for The Journal of Abdominal Surgery, as well as eventually becoming the science editor for The Boston Herald.
The old adage of "write what you know" paid off for Gordon with his first novel, The Rabbi. The novel was heavily based on his own experiences growing up in an American Jewish family. Published in 1965, the story revolves around a young rabbi who falls for the daughter of a Protestant minister. This book saw critical success in the United States, though it was one of Gordon's few books that would. Many of Gordon's works saw far more acclaim from European audiences.
Related: 7 American Literature Books That Go Beyond the Classics

This is particularly true ofThe Physician, the first part of the Cole Trilogy. Published in 1986, this book would see not only a film adaptation, but a musical as well. While it was not a critical success in the United States, its popularity grew rapidly across Europe, particularly in Germany, Spain, and Italy. Gordon's final novel, The Winemaker, was published in 2012.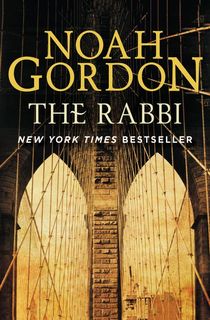 The Rabbi
Michael Kind is raised in the Jewish cauldron of 1920s New York, familiar with the stresses and materialism of metropolitan life. Turning to the ancient set of ethics of his Orthodox grandfather, with a modern twist, he becomes a Reform rabbi. As insecure and sexually needy as any other young male, he serves as a circuit-rider rabbi in the Ozarks, and then as a temple rabbi in the racially ugly South, in a San Francisco suburb, in a Pennsylvania college town, and finally, in a New England community west of Boston.

Along the way he falls deeply in love with and marries the daughter of a Congregational minister; she converts to Judaism and they have two complex, interesting children. Noah Gordon's picture of a brilliant and talented religious counselor—who at times is as bereft and uncertain as any of his congregants—is a deeply moving and very satisfying novel.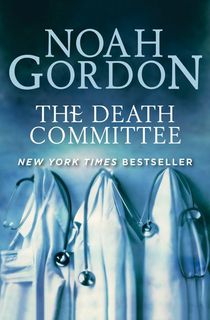 The Death Committee
Three young men from different backgrounds have graduated from medical schools and become surgical fellows at a leading teaching hospital in Boston. They learn to become surgeons, to communicate with patients and families, and to be observed and appraised by their peers and professors on daily rounds.

And each month—sometimes with dry mouth and rapid pulse—each attends the meeting of the Mortality Conference, known to all as the Death Committee, which examines every patient loss for possible human error, in order to prevent it from happening again. How the Death Committee affects and is affected by the lives, loves, and ambitions of three new doctors is the theme of this intriguing and profoundly moving novel.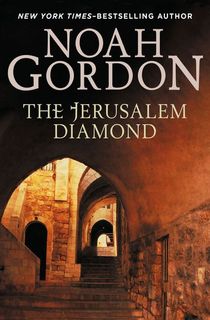 The Jerusalem Diamond
A diamond cutter and seller from a long, respected line of precious-gem dealers, New Yorker Harry Hopeman is intrigued by the story of the so-called "Jerusalem Diamond," a magnificent yellow jewel rumored to date back to the biblical time of King Solomon. So when he's asked to broker a deal that will return the legendary gemstone to Israel, he eagerly accepts.

Arriving in the volatile Middle East, Hopeman soon discovers that his assignment will be anything but easy. Representatives of the Holy Land's three major religions—Judaism, Christianity, and Islam—are all laying claim to the priceless jewel that once adorned the miter of Pope Gregory, and they will do anything to possess it.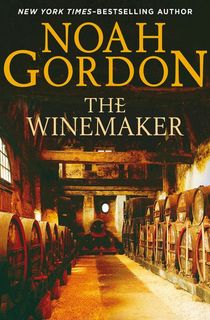 The Winemaker
Josep Alvarez is a young man in the tiny grape-growing village of Santa Eulália, in northern Spain, where his father grows black grapes that are turned into cheap vinegar. Joseph loves the agricultural life, but he is the second son, and his father's vineyard will be inherited by his brother Donat, the firstborn. Josep needs to keep his hands in the soil. He yearns for a job growing grapes and for an opportunity to marry Teresa Gallego.
In Madrid, an assassination plot, conceived against the political leader of Spain by men of wealth and power, creates a storm of intrigue that sucks into its vortex a group of innocent young farm workers in Santa Eulália. How Josep's life is changed drastically by these events, and how, ironically, they gradually turn him into an inspired vintner with an evolving vision of life, is the fascinating story of The Winemaker.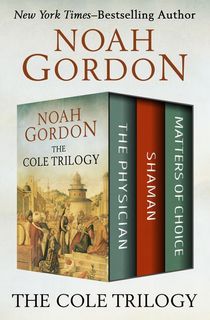 The Cole Trilogy
In The Physician, an orphan in eleventh-century London, Robert Cole, becomes a fast-talking swindler. As he matures, his strange gift—an acute sensitivity to impending death—never leaves him, and he yearns to become a healer. Arab madrassas are the only authentic medical schools, and he makes his perilous way to Persia. Christians are barred from Muslim schools, but by claiming he is a Jew, he studies under the world's most renowned physician, Avicenna. Cole's journey and love for a woman who must struggle against her only rival—medicine—make The Physician a riveting modern classic.

In Shaman, Dr. Robert Judson Cole, nineteenth-century descendent of the first Robert Cole, travels from his ravaged Scottish homeland, through the operating rooms of antebellum Boston, to the cabins of frontier Illinois. In the wilderness he befriends the starving remnants of the Sauk tribe, who have fled their reservation. In the process, he absorbs their culture and learns native remedies that enrich his classical medical education. He marries a remarkable settler woman he had saved from illness. The Cole family is drawn into the bloody vortex of the Civil War, and their determination to survive in the midst of wilderness and violence will stay with the reader long after the final page.

In Matters of Choice, Roberta Jeanne d'Arc Cole is the latest first-born descendant of Dr. Robert Cole. Favored to be named associate chief of medicine at a Boston hospital, she is married to a surgeon and owns a trophy residence in Cambridge as well as a summer house. But everything melts away. Her gender and her work at an abortion clinic cost her the hospital appointment. Her marriage fails. Crushed, she goes to her farmhouse in western Massachusetts, thinking to sell it, and finds an unexpected life. How she continues to fight for every woman's right to choose, while acknowledging her own ticking clock and maternal yearning, makes this prize-winning third story of the Cole trilogy relevant and unforgettable.
Featured photo: Alchetron