Words are power for Vivian, the protagonist of the Netflix original movie Moxie. Inspired by her mother's involvement in the riot grrrl movement, Vivian anonymously distributes a series of zines about the gender inequality and sexual harassment at her high school and encourages her classmates to protest. Her actions have surprising results for her and her classmates.
Inspired by Vivian's calls to arms? Want to learn more about riot grrrl, the punk-influenced feminist movement that lit a fire under Vivian and her friends? Here are some books about riot grrrl and zine-making, for when you want to start a girl riot of your own.
Related: 15 Must-Read Feminist Books From the Past 100 Years
Moxie
Before Amy Poehler adapted Moxie into a charming feature film, it was an acclaimed young adult novel that followed high school junior Vivian Carter through her feminist awakening and an evolving relationship with her mother.
The book delves more into Vivian's internal monologue and does a better job of explaining why riot grrrl appealed to women of her mother's generation… as well as what it could mean to Zoomers.
Girls to the Front
The riot grrrl movement started in the early 1990s in response to the George Bush administration's restrictive policies on abortion and sex education, the Anita Hill congressional hearings, and the drug problems in the Pacific Northwest. Because many of the founding members of riot grrrl were involved with punk scenes in Olympia, Washington and Washington DC, the movement had a volatile soundtrack and a strong artistic bent.
In Girls to the Front, music journalist and onetime riot grrrl Sara Marcus looks back at riot grrrl from its early days, through its media blackout, to its elliptical ending in the mid-90s and signs of its revival. Marcus balances the positive aspects of riot grrrl—like its irreverent approach to feminism, its accessibility, and the compelling and provocative music and art riot grrrls made—as well as its shortcomings, like the lack of racial diversity among its members. Girls to the Front is an essential read for those who want to learn more about riot grrrl.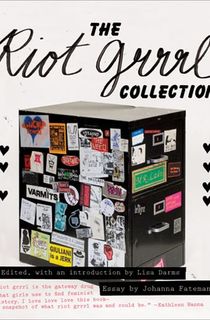 The Riot Grrrl Collection
Individual girls and riot grrrl chapters alike used zines—photocopied and stapled publications—to communicate their manifestos and messages with one another, with other riot grrrls, and with the world at large. Archivist Lisa Darms published a selection of zines for inclusion in The Riot Grrrl Collection, both from well-known publications like Kathleen Hanna's Bikini Kill zine and from lesser-known grrrls.
The Riot Grrrl Collection shows the riot grrrl aesthetic in all its glory, with lots of collages of clip art and repurposed high-fashion photography, dense pages of typewritten text, and covers that look like ransom notes. By including zines like Bamboo Girl that were created by BIPOC creators, Darms challenges the narrative that riot grrrl was primarily a social movement by, for, and about upper-class white women. The visuals are so striking, and the zines are made in such a straightforward way, that readers might want to pick up a glue stick and some scissors and make their own zines.
A Girl's Guide to Taking Over the World
In 1997, zine publisher and sex educator Tristan Taormino compiled excerpts of zines written and edited by young women into a greatest-hits compilation of underground girl media. Though it was published when riot grrrl was winding down, the book feels less immediate due to the lack of page reproductions and the professionally typeset content.
The wide array of stories—which includes diaristic prose, essays on anti-Asian racism, holistic health advice, and a hilarious recipe for edible underwear—shows the breadth of subject matter many girls and grrrls covered in their zines.
Whatcha Mean, What's a Zine?
After seeing Moxie and reading these books, you might want to make your own zine but not know where to start. Never fear, Esther Pearl Watson is here.
The cartoonist behind Bust magazine's gloriously grotesque back-page comic "Tammy Pierce is Unlovable" writes about her own experiences making zines and interviews other zine creators to show readers some of the best ways to get their ideas and thoughts on paper. Watson's advice about specific self-publishing issues like formats, making covers, and Xerox art tips and tricks alongside handwritten pages and comics about self-publishing will not only give you ideas on how to make a zine but will get you excited about putting your thoughts on the page.
How Sassy Changed My Life
While Sassy was a mass-published glossy magazine—or a "corporate zine", as one of its spine lines said—it played a major role in how a larger percentage of girls heard about riot grrrl. Bikini Kill, Mary Lou Lord, and Heavenly were among the bands featured in the popular Cute Band Alert column, and Bratmobile guitarist Erin Smith was even bylined as the DC Correspondent for a few issues.
Many Gen-X women cite Sassy's frank discussions of sex and accessible articles on politics as their entrée into feminism, but the magazine's early articles on virginity, masturbation, and LGBTQ teens garnered controversy that limited its distribution and led to its early demise. How Sassy Changed My Life looked back at how Sassy was conceived and created and how important its coverage of underground culture like riot grrrl was to its readers.
Beige
The subjects of novelist and comics writer Cecil Castellucci's books could have come straight from the pages of Sassy. In her third novel, Beige, sheltered Canadian teen Katy is forced to spend the summer in Los Angeles with her father, punk drummer Beau Ratner, in Los Angeles.
Katy is at first scandalized by her father's freewheeling lifestyle, but her friendships with some of the kids on the scene—most notably Lake, the angry feminist daughter of one of her father's bandmates—helps her see why the punk scene mattered so much and what she can bring to it. Some of the subject matter in the book, like Katy's father's struggles with drug addiction, seem heavy, but Castellucci's light touch makes them seem more human and less scary than they could be in another author's book.
Keep Reading: 8 Books That Pass the Bechdel Test