September 24th saw the release of Netflix's trailer for The Queen's Gambit, based on the popular 1983 novel of the same name. This limited series will arrive on the streaming platform on October 23rd, and stars Anya Taylor-Joy (Emma., The Witch) as Beth Harmon. After she is orphaned, Beth is discovered to possess an astonishing gift for chess. Her skills are unparalleled and her determination is fierce.
Related: 15 Book to Movie Adaptations Streaming on Netflix Now
As she advances through the ranks of the male-dominated world of chess, her success begins to suffocate her. Unable to escape the press and pressures, she falls into a concerning isolation. The trailer unnervingly depicts Beth's spiral into a dark chasm of drugs and alcohol, as her desperate attempt at escape calls her sanity into question. It will take everything Beth has to pick herself up and face the fierce competition coming from Russia in order to attain the coveted title of grandmaster.
Related: 6 Books About the Thrilling Game of Chess
The highly-anticipated miniseries is based on the 1983 novel of the same name. The book has amassed an almost cult-like following of dedicated fans who have been waiting for such an adaptation since two failed attempts in 1983 and 2007.
Renowned for his accurate portrayal of chess scenes, Walter Tevis drew on his own experience as a chess player to depict the harrowing suspense that accompanies chess tournaments in the novel. He also struggled with alcohol addiction and isolation, so these themes are dealt with realistically and sensitively.
Related: Fathering a Chess Prodigy: An Excerpt from Searching for Bobby Fischer
Described as "a thriller masquerading as a chess novel" we're sure the adaptation will likewise keep viewers on the edge of their seats, reeling from the high-stake, yet intensely human struggles and choices Beth must face.
Watch the trailer here: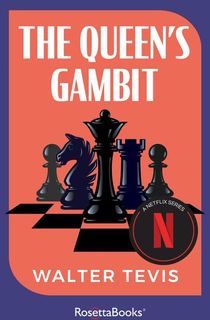 The Queen's Gambit
Newly orphaned Beth Harmon is completely unremarkable in every way. Until one day, in the basement of the orphanage, the janitor discovers she's a chess prodigy. Desperate to realize her full potential, Beth steals some money and enters a chess tournament. A series of victories lead Beth, by eighteen, to be the US chess champion, set to take on Russia. But money wasn't all she stole that night. Will addiction to her stepmother's tranquilizers stand in the way of her true success?