The office of the American presidency is one of the most storied in history, equaling that of older monarchies in both richness and scope. For nearly 250 years, the residents of 1600 Pennsylvania Avenue have inspired admiration, provoked outrage—and everything in between—both at home and abroad.
In light of the current political climate, we're interested in our nation's leaders more than ever. In these uncertain times, perhaps the best way to understand our future is to first understand our past—and how we got here. Whether you're a history buff or simply a curious reader, you can find valuable insight in the best presidential biographies. With their comprehensiveness and readability, they'll be the literary torchlights for your journey through history.
Related: The Best Biographies and Memoirs for Every Kind of Reader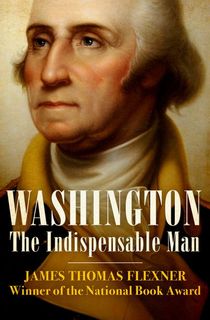 Washington
Flexner's award-winning multivolume series humanizes a man who has reached almost mythic status in the American psyche. His nimble and dramatic prose paints a complex portrait of a novice who set the standard, a conflicted man of unshakeable purpose, who made his mark in history as few ever have.
John Adams
McCullough has made a name for himself as an epic chronicler of great lives, and he lives up to his reputation in this magisterial biography of Adams, the Founding Father who could never quite escape the shadow of the man who preceded him. From his surprising role in the Boston Massacre to inaugurating the vice presidency, America's second president had a first row seat to its birth and trial by fire, here told by McCullough with all the depth and sweep befitting.
Thomas Jefferson: The Art of Power
Remembered as much for his philosophy as his politics, Jefferson is a fitting subject for the cerebrally-minded Meacham, who here weaves the story of a complicated polymath who Declared Independence and Purchased Louisiana, shaping his country in ways literal and figurative.
James Madison: A Life Reconsidered
The wife of former wartime VP Dick Cheney, Lynne observes the life of the first wartime president of what was now officially the United States of America. Briskly-paced and heavily researched, the author nimbly guides readers through Madison's tumults and triumphs, from authoring the Constitution to seeing the White House burned down.
The Last Founding Father: James Monroe and a Nation's Call to Greatness
As Monroe shepherded the United States through a period where it began to assert itself as a regional power, Unger shepherds his audience through this riveting account of a transitional phase in American history and the key founding figure who charted its new course.
John Quincy Adams: American Visionary,
The son of John and Abigail Adams, John Quincy Adams' presidency might be of particular interest given our most recent election, as he was both America's first Commander-in-Chief to run as part of a familial dynasty, and its first to win an election despite losing the popular vote. In this illuminating biography, Fred Kaplan reevaluates the life of this son of American royalty, making a case for why he was a more consequential president than often given credit for.
Andrew Jackson: His Life and Times
Praised and reviled, but never ignored, Jackson was an American original, and Brands does him due service in this meticulously researched recounting of his life. From an orphanage to the Oval Office, from his battles with bankers to the Trail of Tears, Jackson and his outsized persona of a "tough guy" fighting on behalf of the common man against a "corrupt establishment" are as relevant today as they have ever been.
Martin Van Buren
An early sign of Americans' tendency to follow up two-term presidents with their opposites, Martin Van Buren was everything Andrew Jackson was not: polished, deliberate, multilingual and politically groomed. Clinton White House veteran Ted Widmer is an appropriate choice to look back on the life and career of this most accomplished of figures, who nonetheless found himself under siege from all sides once he reached the peak.
9) William Henry Harrison
Old Tippecanoe: William Henry Harrison and His Time
America's shortest-serving president had a nonetheless fascinating life, done justice here by Freeman Cleaves. Running apolitically on his credentials as a war hero, Harrison helped set the modern template for a personally popular "non-ideological" figure to campaign for high office as a "problem solver." His untimely death only a month into his term has rendered him somewhat of an enigma among presidents, and Cleaves explores this fertile ground with a historian's eye and a writer's flourish.
John Tyler
Dubbed "His Accidency" by his detractors in Congress, then-Vice President John Tyler became the first American to assume the presidency without ever being elected to that office, quickly seizing power amidst constitutional uncertainty. Noted secret government historian Gary May plumbs the depths of history to detail the hushed negotiations and go-it-alone diplomacy of this renegade president who circumvented congress in an effort to bring Texas into the Union.
Polk: The Man Who Transformed the Presidency and America
Few presidents have seen their political careers careen from low to high as often as Polk, who went from Speaker of the House to a twice-defeated gubernatorial candidate before ending up in the highest office in the land. Not often remembered in accordance with his impact, Borneman leaves no stone unturned in this revealing portrait of a man whose work culminated in sweeping victory in the Mexican-American War.
Zachary Taylor: Soldier, Planter, Statesman of the Old Southwest
Bauer delves deep into the mind of the enigmatic 12th president, who could confound those around him with positions that defied his origins. An anti-slavery southerner who nonetheless himself held slaves, Taylor vied to use the force of his war hero status to hold the Union together in a time of impending civil war, only be to felled by disease in the second year of his presidency.
Millard Fillmore: Biography of a President
Fillmore was the last president to come out of the Whig Party, which, while having long since faded into history, was a major force in American politics for decades. Rayback deftly weaves together the life of President Fillmore, the party's last contribution to America's highest office, with the looming theme of political upheaval that gripped the country in the years before the Civil War.
Franklin Pierce: New Hampshire's Favorite Son and Franklin Pierce: Martyr for the Union
Even the worst of presidents can make for fascinating subject matter, and Pierce is frequently ranked near the bottom by presidential historians. In his two-volume biography Peter Wallner gamely makes an effort to rehabilitate his subject's military career from longtime charges of cowardice, and he starkly illuminates the political circumstances and personal failures that Pierce struggled with as the nation drifted ever-further toward a rupture point.
President James Buchanan: A Biography
Another poorly-ranked president is given his day in Philip Klein's account of backroom dealings and proverbial smoke-filled rooms as he illustrates that Buchanan's "political animal" nature blinded him to the necessity of turning down the heat in a culture war that was rapidly reaching a boil. Supporting the expansion of slave territory and the infamous Dredd Scott decision because he believed they helped his political brand, Buchanan's quest for personal glory in his single term would visit fateful consequences upon his nation for decades to come.
Lincoln Reconsidered
From humble beginnings to Mount Rushmore, few lives are as quintessentially American as that of the 16th president. Amongst the countless books on Lincoln's life, Pulitzer Prize-winning author David Herbert Donald's stands out for its sheer sweep – this is at once a grand historical epic and a personal tale of inspiration and tragedy. Readers will come away with an appreciation not just for Lincoln's wartime leadership but for the struggles he endured at home, even as the very idea of the United States itself hung in the balance.
Andrew Johnson
It is no coincidence that some of the worst-remembered presidents are those who immediately preceded and followed Honest Abe; standing next to a giant, anyone could look small. But Johnson holds the distinction of being one of only two American presidents to ever be impeached, andstep-by-step, Hans Trefousse lays out how the out-of-his-element Johnson was both overridden by Congress and overwhelmed by the job.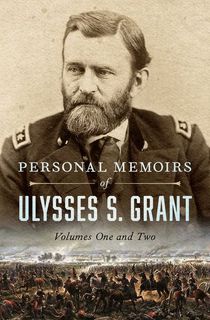 Personal Memoirs of Ulysses S. Grant
A military memoir is a proper vehicle for a figure revered less for his presidency and more for his battlefield heroics. With this account of his time in the Mexican-American War and his successful leadership of the Union Army to victory in the Civil War, Grant shows himself to be a compelling writer in his own right. Crisp and to-the-point prose offers an inside look at battle strategy like few other sources, and Grant's personal insights into each wars' merits make for an intriguing read.
Rutherford B. Hayes: Warrior and President
Hayes reasserted presidential power after Congress had taken charge during the two prior presidencies, and for this Ari Hoogenboom makes his case to reassert Hayes' position in the presidential canon. Though often seen as ineffectual, Hoogenboom recontextualizes his subject's accomplishments in light of how far the powers of the presidency had fallen, and compellingly relates Hayes' personal push for progressive policies on a host of issues from public education to prison reform.
Destiny of the Republic: A Tale of Madness, Medicine and the Murder of a President
The title of this account of Garfield's life conjures images of plot and intrigue in the mind of the reader. So it should, for Candice Millard has written a biography that often reads like a thriller, breathless as it is in retelling the story of a man who rose from poverty to prominence, only to be felled by an assassin's bullet less than a year after his election. But the bullet itself is only part of the plot–Millard then leads us through a whirlwind of experimental treatments and medical malpractice, as the last days of the president's life play out like an episode of ER.
Gentleman Boss: The Life of Chester Alan Arthur
Arthur's presidency was memorable for its quiet confidence, and Arthur himself for vastly surpassing expectations. Thomas Reeves charts the court of a man of limited ambition who was suddenly thrust into power and had to sink or swim. Under his steady leadership the United States suffered no major crises, and upon his retirement he was lauded in a bipartisan way that is almost impossible to imagine today.
The Forgotten Conservative: Rediscovering Grover Cleveland
Most famous for being the only president to be elected on non-consecutive occasions, John Pafford's work reminds us that Grover Cleveland was much more than a historical anomaly. Cleveland felt a strong calling to "try to do right," and in his first term he took on political corruption and nepotism in a way many would say is sorely needed in modern America.
Benjamin Harrison
Interrupting the presidencies of the popular Grover Cleveland (who actually defeated him in the popular vote), Benjamin Harrison was a political savant. Calhoun skillfully lays out how this grandson of America's 9th president played the system like a fiddle, ousting the more popular Cleveland in an electoral college landslide, and then worked with congress to accomplish much in their limited time with Republican control, including passing the crucial Sherman Antitrust Act that established the baseline with which we break-up monopolies to this day.
An Honest President: The Life and Times of Grover Cleveland
Everything old was new again as Grover Cleveland reassumed the presidency after a four year absence. He picked up where he left off in his crusade for justice and honesty in political life, and it is this quality of integrity that H.P. Jeffers returns to again and again in this biography, which takes the more personal path of examining how Cleveland's character shaped his presidency.
The President and the Assassin: McKinley, Terror, and Empire at the Dawn of the American Century
Miller's expansive account of the 25th president's life reads almost like a romance-era thriller. McKinley is both a swashbuckling figure, instigating and achieving sweeping victory for America in the Spanish American War, and a tragic one, cut down shortly after winning reelection. Miller weaves into this epic the story of his assassin, Leon Czolgosz, a large figure in his own right in anarchist history.
Theodore Roosevelt Series
Selected in its entirety by the Modern Library as one of the Best 100 Nonfiction Books of All Time, Morris' three-volume look at "Teddy's" life is, like its subject, the stuff of legend. Combining the accuracy of a historical detective with the literary verve of a master dramatist, Morris cruises through the extraordinary life of this politician, progressive, adventurer, explorer and, of course, president.
The Bully Pulpit: Theodore Roosevelt, William Howard Taft, and the Golden Age of Journalism
In the crowded field of presidential historians, Doris Kearns Goodwin is in a category all her own. Here she sets her subject's presidency on not just his own terms, but as part of a titanic battle for the very soul of America, as Taft wages a brutal political war against his one-time friend Theodore Roosevelt. At issue was the widening wealth gap, corporate resistance to regulation, and a muckraking press. Readers need not be forgiven for seeing resemblances to their own time.
Wilson
For this comprehensive look at one of the most consequential presidents America has ever seen, the Pulitzer Prize-winning Berg was the first to gain access to many primary source documents related to Wilson's life. Those documents help Berg take readers on a breathless ride through the birth of America as an international power, as Wilson guides the nation through the pivotal role it played in what was a war unlike any seen in human history to that point in time.
Warren G. Harding
This unique writing pair (Schlesinger a revered historian and public intellectual, Dean an infamous figure from the Watergate-era Nixon White House) combine to offer a clear and concise look at the breakdown of a president's public image. Popular upon his death, Warren Harding's reputation took a posthumous plummet when the tawdry details of both his political and private activities became public. Few know about such things at the presidential level as well as Dean.
Coolidge
Shlaes gives us an even-handed look at the controversial Coolidge. Viewed by some as an upstanding champion of up-by-your-bootstraps Americanism, and by others as a cold-hearted worshipper of capital; whichever side of the debate you may fall on (or if this is your first forage into it) Coolidge remains an intriguing figure, as Shlaes' New York Times bestseller here proves.
Herbert Hoover in the White House: The Ordeal of the Presidency
A successful businessman who presided over the worst economic crisis in American history, Hoover is somewhat of an enigma. Charles Rappleye gamely dives into the life and mind of this complicated figure, who was both ambitious and timid, personally optimistic and publicly dour, and dismissed as "CEO" by American shareholders after only a single term.
32) Franklin Delano Roosevelt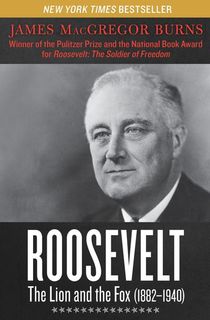 Roosevelt: The Lion and the Fox
An epic presidency (Roosevelt remains the only man ever elected to the office more than twice; he won it four times) gets the epic treatment it deserves from James MacGregor Burns in this Pulitzer Prize-winning two-volume biography.
From his beginnings on the New York political scene to his becoming the most consequential figure on earth during World War II, Burns paints an endlessly captivating portrait of Roosevelt the intellectual, inspirer, warrior and even humorist.
Truman
A man as underestimated as perhaps any in American history, "Give 'em Hell" Harry today gets his due from one of the foremost historians of our time. McCullough thrills his readers with all the trials and tribulations of a bookish man who found himself at the heart of so many epochal events it boggles the mind. The end of World War II, the decision to use the atomic bomb, McCarthyism, the Korean War – McCullough conducts this concert of history with the expertise of a true maestro.
Eisenhower: A Life
"I like Ike" was Dwight Eisenhower's election slogan, and it remains an apt one for a president who has remained popular in the public mind over a half century after leaving office. In this succinct biography Paul Johnson hits all the major beats of Ike's life, from his modest Kansas upbringing to the shores of Normandy Beach, all the way up to the gates of the White House itself.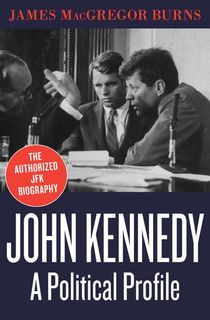 John Kennedy
First published before his election to the presidency, James MacGregor Burns' biography of the 'up and coming' congressman from Massachusetts gets its spot on this list because of the uniquely personal relation of the author to his subject. Burns and Kennedy were close friends, and the president-to-be granted him unprecedented interviews and access to both himself and the entire Kennedy clan. JFK was and remains a celebritized figure in our national consciousness, and so it is worthy to look at the more personal side of him revealed to Burns here.
36) Lyndon Baines Johnson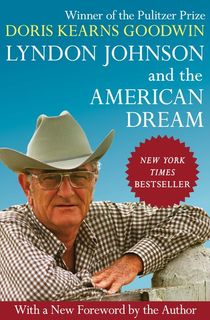 Lyndon Johnson and the American Dream
Goodwin makes a return to this list to chronicle the peaks and valleys of LBJ, to whom she was both a confidante and White House employee. She mines this relationship to offer frank insights into and eyewitness play-by-play of the life of a man whose domestic achievements of Medicare and the Civil/Votings Rights Acts were ultimately overshadowed by his failure in the Vietnam War, resulting in the almost unfathomable fall from winning one of the greatest landslide victories in presidential history to being drummed out of his own party's primary race just four years later.
Being Nixon: A Man Divided
This was the age of upheaval, and the political career of Richard Nixon waxed and waned with the times in true rollercoaster fashion. Thomas expertly guides us through Nixon's early triumphs as Ike's vice president through his nail-biting loss to JFK, from the misery of his defeat in a California gubernatorial bid to his shocking comeback to the presidency and landslide reelection, and finally, of course, to the most infamous moment of this remarkable life, as he becomes the first, and only president to ever resign from office.
RELATED: 8 Revealing Books About Richard Nixon and the Watergate Scandal
Gerald R. Ford: An Honorable Life
The stunning series of events that led Gerald Ford's elevation to the presidency (the resignations of Vice President Agnew and then President Nixon) sets the stage for the Cannons' attempt to rehabilitate the image of an "accidental president" often mocked for being in over his head. The authors make a compelling case that the humble and honest Ford was exactly the figure America needed to follow the deception and corruption of the Nixon years, even if Americans did not at the time realize it.
The Unfinished Presidency: Jimmy Carter's Journey Beyond the White House
Renowned historian Douglas Brinkley gives a unique take on a unique figure. While most anyone would consider the American presidency the pinnacle of personal achievement, Brinkley makes the case that for Jimmy Carter the highest office in his country was but a stepping stone to his later work on behalf of causes and peoples all over the world. Utilizing the relationships he'd built in office allowed Carter to travel the world as a statesman and humanitarian in his long post-presidential life, advocating with faithful zeal on behalf of the many disenfranchised.
Reagan: The Life
In both life and death Ronald Reagan was as much an avatar of his political movement as perhaps any president; to this day Republican presidential candidates go out of their way to compare themselves to "The Gipper" in all ways possible. Revered by many for his infectious optimism and Cold War warrior's zeal, reviled by others for his administration's multiple scandals and controversial economic practices, the actor-turned-president was a true American original, and Brands' expansive account of his life will give interested readers all they could hope for.
RELATED: Step Inside the White House With These Entertaining Reads
Destiny and Power: The American Odyssey of George Herbert Walker Bush
For the man who presided over the fall of the Berlin Wall, the end of the Cold War, and in the sands of Iraq, the first President Bush is today considered by many to be a historical footnote. Jon Meacham here makes the forceful case for a reevaluation of that conventional wisdom, as he draws on Bush's personal diaries to paint a picture of a cerebral man who guided the nation through tumultuous times according to what he thought best for the country, even as it took its toll on his personal popularity.
42) William Jefferson Clinton
The Survivor: Bill Clinton in the White House
An apt title for the young man who found himself perpetually under siege from the day his presidency began, Harris' appraisal of Bill Clinton's life continually returns to the theme of survival. From losing the Arkansas governor's mansion only to return, from his disastrous national debut at the 1988 DNC to his triumphant ascent to the presidency, from the ignominy of impeachment to leaving office with the highest approval ratings on record, Harris' work offers an up close and personal view of a man who has inspired, frustrated and beguiled on his way to becoming one of the foremost figures of the modern era.
Days of Fire: Bush and Cheney in the White House
Baker's choice to feature Dick Cheney so prominently in both his title and his book on the years of "Dubya" is a fitting one, for few presidents have been so inextricably tied to their junior partners. However, Baker goes far beyond the simple explanation of Bush as Cheney's puppet; rather, through hundreds of interviews and previously unreleased memos, he arrests our attention with the story of a friendship gone awry, from the president's admiration of Cheney's hard-nosed tactics that helped him eke out the closest election in American history to his disgust in their final years as one of the most disliked White House tandems the country has ever seen.
The Bridge: The Life and Rise of Barack Obama
Any biography of the nation's first African American president must address not only the life of its endlessly fascinating subject, but perform on-the-fly contextualization of the historical significance of something so fresh in our minds. Remnick clearly relishes the challenge, and his bestselling account of Obama's life and task dovetails beautifully with an exploration of how America's disgraceful past on the issue of race explosively gave way to its crowning achievement.
Related: The Barack Obama Reading List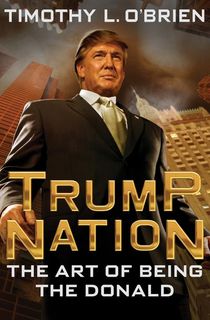 TrumpNation
How prescient O'Brien's title was, as we found ourselves at this strange point in history where it was indeed Donald Trump's America. True to form, after granting the author dozens of hours of interviews and traveling privileges, Trump then turned around and unsuccessfully sued O'Brien, claiming the author misrepresented his wealth as smaller than it "bigly" was. (Years later, Trump's leaked tax reforms would vindicate O'Brien's depiction of Trump's finances.)
Likewise true to form, the president himself makes perhaps the best case for reading O'Brien's book: he doesn't want you to read it.
Joe Biden: The Life, the Run, and What Matters Now
National Book Award-winner Evan Osnos published this biography of President Joe Biden less than a week before Election Day 2020. At just 193 pages, the biography is surprisingly concise. But by blending interviews with both Biden and contemporary figures who know him best, including Barack Obama, Amy Klobuchar, and Pete Buttigieg, Osnos paints a picture of what the Biden presidency might look like—and why he may be exactly who this country needs right now.
Related: What Are Joe Biden's Favorite Books?
Featured photo courtesy of Wikipedia