Though it may not seem like that long ago, the turn of the century is now more than two decades past. While the years have come and gone in the blink of an eye, it is worth looking back on all of the novels that have found their way onto our shelves and into our hearts.
From the monumental to the touching, there are scores of books worthy of praise. Recent works of literature have broken down barriers and built understanding. Through their stories, readers have been able to learn of other cultures, times, and places, and uncover just as much about their own values, ideas, and aspirations.
Powerful and mesmerizing, there are far too many fulfilling and illuminating novels to fit on any neat list. However, below are 20 books that are among the best of the 21st century– and perhaps most exciting of all, the century is still just getting started.
Atonement (2001)
Artfully crafted, Ian McEwan's Atonement centers upon a 13-year-old's misjudgment. Believing she witnessed a crime, Briony Tallis begins a chain of reactions that span decades and great depths of sorrow and suffering. Set against the backdrop of World War II, McEwan tells a moving story of love, shame, and forgiveness.
White Teeth (2001)
A book centered upon two friends, White Teeth shares a story of life and family amidst the globalized, chaotic, and entirely unpredictable world we live in. Both Archie Jones and Samad Iqbal begin living life with newfound energy, when they are thrust into marriage and fatherhood well into middle age. Archie marries a much younger Jamaican woman, Clara Bowden, and with the birth of his daughter, Irie, navigates raising a child far more aware and thoughtful than many adults.
At the same time, Samad, with his wife who is now old enough for their arranged marriage, has twins who are marked by their differences far more than their similarities. Weaving together Britain's colonial history with the next generation's future, Zadie Smith writes a lively, memorable, and entirely unique debut.
Related: 27 Must-Read Books by Black Authors
The Corrections (2001)
Now, finally, after 50 years as a dedicated mother and wife, Enid Lambert is hoping to enjoy herself. Planning to bring her family together for a Christmas celebration, Enid contends with the struggles of her family members—from her husband, who is feeling the effects of Parkinson's disease, to her children, who are unable to handle problems that range from clinical depression, to an ill-advised career switch, to the fallout of an affair. Funny and quick-witted, The Corrections probes into domestic and international challenges through a family caught up in an all too familiar life of mediocrity.
Fingersmith (2002)
Growing up an orphan in the dingy slums of London's Victorian Era, Sue Trinder is given the unlikely opportunity to pay back her beloved adoptive family. To do so, she must help a charming and sophisticated thief con Maud Lilly, a naive old lady. But the unlikely relationship between Sue and Maud brings unexpected turns to a riveting exploration of feminism and sexuality, in a story The New York Times Book Review calls "Oliver Twist with a twist."
Oryx and Crake (2003)
Dystopian and transportive, Margaret Atwood's Orynx and Crake, part of her MaddAdams trilogy, tells of one man's journey through an out of control world, that is the byproduct of genetic engineering and corporate interest. Reconciling the loss of his best friend Crake and his alluring love Onyx, Jimmy, or Snowman as he is now called, searches for meaning in a world in which he is the last human. As much a warning as a love story, Atwood's dystopia is unsettlingly in its sheer believability.
Cloud Atlas (2004)
With an unmatched intricacy and scope, David Mitchell's Cloud Atlas travels through the centuries and stories of disparate characters, living in equally desperate times and places. But despite the leaps in time and space, and the changes in feel and voice, each story connects in an artistic feat that dives into underlying questions surrounding identity and reality.
From a 19th century voyage, to a 1970s investigation, to a dark post-apocalyptic future, Mitchell "creates a world and language at once foreign and strange, yet strikingly familiar and intimate" (Los Angeles Times).
Gilead (2004)
The Pulitzer Prize winning Gilead digs at the heart of America. When Reverend John Ames finally puts pen to paper to leave his young son with the story of his life, and that of his father and grandfather before him, he is full of lifetime's experience and wisdom.
In Ames' searing and heart-wrenching story of three generations, Marilynne Robinson takes readers from the American Civil War, to the 1900s, in a novel that is "as big as a nation, as quiet as thought, and moving as prayer" (Kirkus).
Never Let Me Go (2005)
With a Nobel Prize in Literature, Kazuo Ishiguro is a force to be reckoned with. In his subtle and moving novel, Never Let Me Go, Ishiguro tells of a love triangle between a trio of schoolmates and ill-fated clones living a dystopian existence. Following their days in an elite, yet mysterious, English boarding school and their reunion almost a decade later, Never Let Me Go sheds light on innocence, loss, and humanity.
Related: Author Kazuo Ishiguro Wins the 2017 Nobel Prize in Literature
The Road (2006)
In the desolation beyond the apocalypse, Cormac McCarthy's The Road tells the powerful story of a father and son, each other's one remaining bright spot in a world otherwise dark, bleak, and overbearingly harsh in its ruin. Headed for the coast, the two do not know what waits for them at their destination or along the way.
The Pulitzer Prize-winning novel, depicting humankind in its aftermath, earned the distinction of one of the best books of the year from The Boston Globe, Los Angeles Times, People, Time, and The Washington Post– just to name a few.
Half of a Yellow Sun (2006)
Hailed as a gifted writer of everything from poems, to short stories, to novels, Chimamanda Ngozi Adichie left a lasting mark with her second novel Half of a Yellow Sun.
Recounting the Biafran War of the 1960s, Adichie's story of hope and heartbreak unfolds across the lives of a touching set of intertwined characters that include an impassioned professor, his 13-year-old houseboy, the professor's entranced mistress, her twin sister, and her sister's reserved English suitor. Having gone on to write Americanah and We Should All Be Feminists, much of Adichie's work has been lauded as exceptional.
Harry Potter and the Deathly Hallows (2007)
Culminating the Harry Potter series, Harry Potter and the Deathly Hollows capped off an enchanting, alluring, and entirely transportive journey. J.K. Rowling's imaginative story of a young wizard, his school for sorcery, and ultimately, a fight between ever-more-nuanced forces of good and evil, gave life to a sensation entirely its own. Complete with a movie franchise and theme park, Harry Potter has become a near-universal culture touchstone.
The Line of Beauty (2008)
During the 1980s, against the backdrop of the years' economic boom and sweeping AIDS epidemic, Alan Hollinghurst delivers a Man Booker Prize winning story, and with it, a glimpse into the decade.
Nick Guest, a twenty year old graduate of Oxford, moves to the home of a conservative Member of Parliament in Britain. Amidst their lavish lifestyle, Nick not only becomes closely involved in the family's affairs, but also in two markedly different loves, one a young Black clerk and the other a privileged Lebanese peer.
Wolf Hall (2009)
In a reinvigorating story of Henry the VIII's court, Wolf Hall follows Thomas Cromwell and his cunning ascension to power. Wrought with endless ambition, volatile politics, and captivating excitement, Hilary Mantel's Wolf Hall brings the often far-off world of royal power to a thrilling immediacy, in the spellbinding pages of her elaborate masterpiece.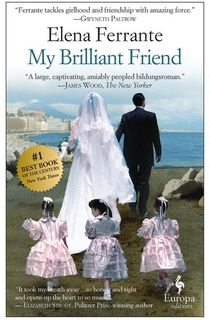 My Brilliant Friend
The first book of the Neapolitan Novels published in 2011, Elena Ferrante's My Brilliant Friend begins the grand and touching story of two women's lifelong friendship. Ferrante crafts the intricate and yet enduring relationship between the outgoing and unabashed Lila, and the more reserved Elena, beginning with their first childhood meeting.
Set in 1950s Italy, My Brilliant Friend and the series' subsequent novels, share the changing currents of Naples and beyond through the decades and the lives forever altered along the way.
Gone Girl (2012)
With a staggering mid-novel switch-up, this murder mystery became something more. Riveting and shocking, Gone Girl is a compelling page-tuner that follows the disappearance of Amy Dunne and the subsequent suspicions that swirl around her husband Nick Dunne.
With tumbling lies and carefully crafted deceits, Gone Girl twists and turns through a broken marriage, a post-recession town, and an unbelievably warped reality. Told through unreliable narrators, Gillian Flynn creates a "mercilessly entertaining" (Vanity Fair) and "wickedly absorbing" (O: The Oprah Magazine) standout.
Related: 10 Domestic Thrillers That Make You Read Between the Lies
The Round House (2012)
Winning the National Book Award, The Round House centers on a shocking and painful crime that shatters a young boy's family. In the wake of the tragedy, and alongside his friends, Joe Coutts seeks justice in a moving mystery and coming of age story set in Ojibwe reservation in North Dakota.
Part of a loose trilogy, The Round House ties into Louise Erdrich's Pulitzer Prize finalist, The Plague of Doves, and her National Book Critics Circle Award winner, LaRose.
Related: 10 Must-Read Quotes And Books from Indigenous Authors
A Brief History of Seven Killings (2014)
Awarded the Man Booker Prize, Marlon James' A Brief History of Seven Killings begins with the assassination attempt on Bob Marley in Jamaica in 1976. With more than 75 vibrantly detailed characters, James tells an immersive and expansive story of the violence, rumors, instability, and intrigue. From Jamaica, to New York, and back to Jamaica again, James reveals a decades long story of evil, justice, and fate.
All the Light We Cannot See (2014)
Expansive, rich, and powerful, Anthony Doerr's Pulitzer Prize-winning All the Light We Cannot See tells the heartbreaking story of a blind French girl and a German boy, whose winding paths cross amidst the destruction of World War II. In vivid imagery and detail, Doerr softly tracks the lives of Marie-Laure, as she escapes Paris with her father and a precious museum artifact, and Werner Pfennig, as he is pulled into the German's efforts to pinpoint the resistance as a result of his fascination with radios and their almost magical messages.
Despite the cruelty of the time and heaviness of their lives, Doerr's young protagonists offer an emotional look into a world of small victories.
Sing, Unburied, Sing (2017)
A two time National Book Award winner, Jesmyn Ward writes a story of fathers, sons, families, and memories in her New York Times bestseller. Centered on Jojo, a 13-year-old boy on the cusp of adulthood, Sing, Unburied, Sing follows him and his family members along their journey to pick up his father from prison.
With a powerful set of characters, both present and absent in Jojo's life, and a haunting story of another 13-year-old boy, from the same prison as his father, Ward writes a lyrical and mesmerizing "odyssey through rural Mississippi's past and present" (The Philadelphia Inquirer).
Where The Crawdads Sing (2018)
In Barkley Cove, the town is quick to point fingers at Kya Clark when the local golden-boy Chase Adams is killed. Viewing the outcast, or the "Marsh Girl" as she is called, akin to a piece of local folklore, they fail to understand Kya or her life.
Growing up in poverty and neglect, coming of age and finding love– only to lose it, and persisting through the crush of abandonment, Kya becomes a woman of quiet strength and resourcefulness. Seen through her clear eyes, Where The Crawdads Sing offers a moving tale of love, perseverance, and wonder for nature that the New York Times calls "painfully beautiful" and Business Insider considers a Defining Book of the Decade.
Related: 7 Murder Mystery Books Like Where the Crawdads Sing