Ernest Hemingway was not only a revolutionary American novelist, but he was also an adventure seeker and world traveler.
Hemingway moved to Paris in 1921, where he worked, partied, and learned from other authors such as F. Scott Fitzgerald, Gertrude Stein, and Ezra Pound. In 1925 his first major piece, In Our Time, was published. In the following year, one of his most famous books, The Sun Also Rises, was released.
His novel, The Sun Also Rises, took much inspiration from his life while settled in Paris. While it is not the most optimistic book, the story involves a group of American expatriates working in France and Spain, which reflected Hemingway and his author-friends' current situations. These famous authors would go on to be considered a group of writers called The Lost Generation.
Throughout the thirties, the novelist drew creativity from his travels to Spain and Africa. His love for bullfighting helped him write Death in the Afternoon, and an African safari resulted in Green Hills of Africa. Hemingway's global travels fueled his motivation and artistry throughout his entire life and often resulted in some of his most trailblazing work.
During the post-war years, Hemingway wrote some of his other greatest novels and short-stories including For Whom the Bells Toll, A Moveable Feast, and The Old Man and the Sea, which he received a Pulitzer Prize for in 1953. In 1954, Hemingway was awarded the Nobel Prize for Literature.
While we give a big-picture look at Hemingway's career, the biographies on this list offer insights into his private life and stories behind the work that captivate us. These biographies come from some of the closest sources to the artist and provide a deeper look into who Hemingway truly was and how it shaped his work.
Related: 10 Moving Biographies and Memoirs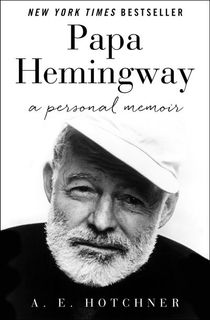 Papa Hemingway
In 1948, journalist A.E. Hotchner traveled to Cuba in hopes of interviewing Hemingway for an article on "The Future of Literature," for Cosmopolitan magazine. While the article was never published, Hemingway and Hotchner developed a strong friendship that lasted until Hemingway's death in 1961.
Throughout the years of friendship, the pair caroused through the bars of New York City, ran with the bulls in Pamplona, fished in the waters off of Cuba, and hunted in the Idaho wild.
Hotchner candidly recites the life of Hemingway down to the details of his daily routine. From hand writing long, descriptive passages, to memories with F. Scott Fitzgerald and Gertrude Stein, and finally to Hemingway's final years and his battle with depression, Hotchner celebrates the life of one of the most iconic literary figures in Papa Hemingway.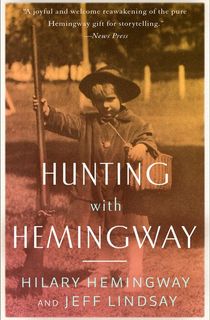 Hunting with Hemingway
Fifteen years after her father's death, Hilary Hemingway received an intriguing inheritance—an audio cassette recorded by her father Les ,recounting the incredible and unbelievably true hunting stories he shared with his older brother, Ernest Hemingway.
Humorous tales of the Hemingway brothers hunting ferocious crocodiles, dangerous Komodo dragons, and scary ostriches are retold by Hilary. However, along with these fun memories is Les's seriousness in defending his brother's reputation and life.
Hilary brings us into the larger-than-life bond between Ernest and Les and shares her own story with making peace with the Hemingway legacy.
Hemingway's Boat
Focusing on the Hemingway's life in the years of 1934-1961, Paul Hendrickson explores the highs and lows from Hemingway's peak as the monarch of American letters until his suicide. During this time, one thing remained constant in Hemingway's life: his beloved boat Pilar.
Hendrickson dives into unpublished work, interviews with Hemingway's sons, and undiscovered truths of the novelist's life to bring a fresh understanding of the great American writer fifty years after his death.
Ernest Hemingway
Mary V. Dearborn's biography on Hemingway was the first in many aspects. The first to use never-used-before material, the first to be written by a woman, and the first full biography of Hemingway in over fifteen years.
Published in 2017, Dearborn's biography of Hemingway explores the complexity of his personality, his work, and his life. His seven novels and six short-story collections have changed the art of fiction and literature and continue to influence it today.
Dearborn also examines Hemingway's personality and character on a deeper level as it was the same demons inspiring his revolutionary work that ultimately were leading him to his death in 1961.
The Young Hemingway
Michael Reynolds breaks down Hemingway's life into five pivotal parts through his Hemingway Collection, from his early life to his final years. The Young Hemingway is the first biography in the series focusing on Hemingway's upbringing, the foundation his writing will be built on, and his experience during World War I.
Going through the formidable years of his life, Reynolds reveals Hemingway's father's own self-destructive battle with depression, his mother's fierce sense of spiritualism and independence, and Agnes Von Kurowsky—the first woman Hemingway fell in love with.
Ernest's Way
Hemingway's great granddaughter Cristen Hemingway James takes us around the world to the different places the great American novelist lived, drank, fought, ran with the bulls, and wrote his most famous work. Ernest Hemingway thrived on exploring new places, creating excitement, and interacting with influential artists of the twentieth century.
In Ernest's Way, an intimate look into Hemingway's life is created with essential insights and information on the many places around the world he lived. This biography is the first to give a comprehensive guide to the author's exhilarating adventures and how each place shaped his writing.
Cristen not only brings us a deeper glimpse into Hemingway's life and work, but she also brings each of these places to life and takes us on our own Hemingway-inspired adventure.