Marge Piercy is one of those writers who defies categorization. But whether she's writing poetry, science fiction, or historical epics, her work is always imbued with her unwavering political and moral convictions. Since the late 1970s, she has been a champion of women's stories, often using her writing as a way of addressing important (and sometimes controversial) feminist or social issues. As Gloria Steinem wrote in a 2015 essay, Marge Piercy is "a fierce and devoted activist who wants us to be more than passive readers." But which of her books should you start with?
Below, we've laid out a guide to the must-reads of Piercy's canon. From a feminist sci-fi classic to a New York Times-bestselling World War II saga, they're unmissable works from a formidable voice in the literary community.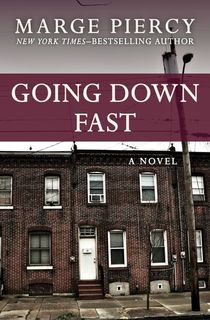 Going Down Fast
A furious and brilliant first novel, Going Down Fast is set in a black Chicago slum threatened by gentrification. When a university announces construction plans for more student housing, the locals rally together, hoping to save their homes from demolition. But as they fight the good fight, this group of artists, teachers, and singers will discover that secrets and corruption are not exclusive to large institutions. Piercy's musings on wealth and power are interwoven with intimate personal dramas, which are as pressing as the imminent destruction of the characters' way of life.
Circles on the Water
A grim parable about the patriarchy, "Barbie Doll" is one of Piercy's most enduring poems and a classic of second-wave feminist thought. In it, she criticizes the expectations thrust upon young girls—from toy "GE stoves and irons" to "lipsticks the color of cherry candy"—and how they jumpstart a lifelong (and toxic) quest for "perfection." It's been nearly fifty years since the poem's publication, but these sexist pressures still exist today: "What is natural is forbidden," Piercy wrote in an exclusive essay just last year. "When most women cannot possibly achieve what is held up to us as what we should be, something is wrong in our society, and it's not getting better. That's why this old poem goes marching on."
You can find "Barbie Doll" in Circles on the Water, a collection of Piercy's most beloved poetry.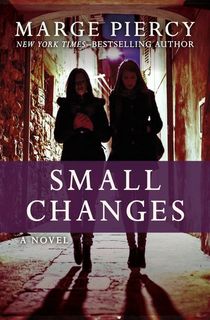 Small Changes
Small Changes is a novel about female friendship, but it's a lot more than that too. Set in the 1960s, it chronicles the relationship between Beth and Miriam, two women who have sacrificed their identities and careers for marriage. Their first meeting finally ignites an angry and proactive spark, setting both women on a transformative journey full of sexual experimentation, female empowerment, and political activism. Altogether, the novel "speaks to the totality of a woman's experience," as Beth and Miriam try to stake their claims in a world run by men.
Woman on the Edge of Time
Woman on the Edge of Time is arguably Piercy's most iconic work of fiction. Having lost her husband and her son, 37-year-old Connie is removed from her home in Spanish Harlem and committed to a mental institution. While there, she is visited by a time traveler, Luciente, who brings news from the year 2137. In this America, the radical policies of the 1970s have come to fruition, creating a society that is classless, genderless, and places great value upon free will. But while this future is vivid and beautiful, it is not guaranteed—the country could also evolve into a violent, misogynistic dystopia. Armed with this new prophetic knowledge, can Connie initiate change and determine the fate of the world? Published in 1976, the novel is a response to the 1960s and "literally [embodies] every ideal of the counterculture/Movement" (Kirkus Reviews).
Related: Still on the Edge: Gloria Steinem Explores the Marge Piercy Classic
Vida
The nominal heroine of this "very exciting" novel is one of Piercy's most complex (Margaret Atwood). Vida Asch is beautiful, fierce, and a famous antiwar rebel from the 1960s. In the 80s, however, she's on the run—a member of a militant radical organization reminiscent of the Weather Underground. Piercy frequently shifts between Vida's past and present, where the demands of her political life create friction with those of her private life. Overall, Vida "bears witness" to life during and after the social upheaval of the 1960s, capturing two unique moments in American history (The New York Times).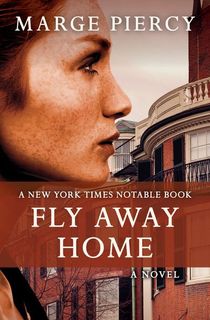 Fly Away Home
At the beginning of Fly Away Home, Daria Walker's marriage to Ross, an attorney, has already grown stale. But the shock of their impending divorce and Ross' infidelities pale in comparison to what she discovers from a group of protesters: Ross is also involved in an illegal real estate scheme—and may be responsible for a young boy's death. Piercy has used her writing talents to create a thriller that keeps the pages turning but also tackles "the evils of gentrification" and corruption in privileged suburbia (The New York Times).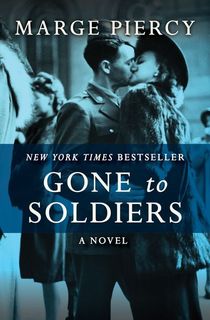 Gone to Soldiers
Piercy's Gone to Soldiers was a big mid-career hit, and it proves she has never been limited to any one genre. It weaves an epic, globe-hopping war story that takes readers into the lives of ten unforgettable characters—from a teenager in the French Resistance to a rebellious female fighter pilot. It's a stunning literary achievement of World War II fiction that portrays how, in the most trying circumstances, everyday citizens can rise up to fight for their countries, loved ones, and lives.
Related: 20 Historical Fiction Books About Life During World War II
He, She and It
Piercy returned to sci-fi with He, She and It, a "gripping love story" between a cyborg and a human woman (Kirkus Reviews). It went well, to say the least: it won the Arthur C. Clark Award in 1993 and drew comparisons to Margaret Atwood's The Handmaid's Tale.
The novel is set in the dystopian future, where Shira Shipman returns to her hometown—one of the few places free from corporate rule—to live with her tech-savvy grandmother, Malkah. Upon Shira's arrival, Malkah reveals that the town's survival rests in the hands of a cyborg, Yod, that she helped program. As Shira undertakes the task of socializing Yod—and falls in love—her reality mirrors Malkah's stories about a 17th century Jewish golem. The result is a highly original cyberpunk novel that doesn't lose sight of the human relationships and political consciousness that have always elevated Piercy's fiction.
Related: 20 Books Like The Handmaid's Tale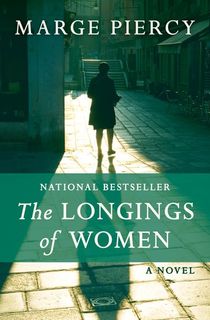 The Longings of Women
A work of literary fiction, The Longings of Women focuses on three female protagonists: While Leila Landman has finally left her husband in the dust, Becky Burgess is suspected of killing hers. Then there's Mary Burke, Leila's housekeeper, who has no home of her own now that her marriage has fallen apart. Their paths intertwine as they try to redefine their lives according to their own terms—a "suspenseful" journey that "leads to a rending climax" (Publishers Weekly). With all of their flaws and fears, Piercy's heroines feel incredibly human and their problems, universal.
Featured photo courtesy of Alchetron
KEEP SCROLLING FOR MORE BOOK STORIES