Prepare to immerse yourself in international intrigue with these mystery and thriller books by international authors. A dose of unfamiliarity—whether it be the political strife of another country, or simply the winding streets of a foreign city—makes these mysteries and thrillers all the more fresh and alluring. From the Swedish thrillers of Joakim Zander to a historical series set in South Africa by Malla Nunn, these books by international authors are positively addictive.
Spring Cleaning
The fourth installment in Italian author Antonio Manzini's beloved series picks back up in Aosta, the alpine town where Deputy Police Chief Rocco Schiavone has been exiled. Far from his native Rome, Schiavone is unable to stop himself from pursuing his one true love: solving mysteries.
In Spring Cleaning, Schiavone takes it upon himself to solve the murder of his best friend's girlfriend. Believing the hit was meant for him, Schiavone feels responsible for bringing justice to the woman who paid the ultimate price for being in the wrong place at the wrong time. A parallel investigation takes shape as the family of a kidnapped teenager that Schiavone helped save acts increasingly suspicious. With a prickly sleuth, luscious Italian landscape, and biting dialogue, Spring Cleaning is a thoroughly satisfying read.
Troubling Love
Before she received international fame for writing the Neapolitan quartet, Elena Ferrante first hooked readers with her 1992 psychological mystery, L'amore molesto. After receiving a series of unusual phone calls, Delia learns that her mother has drowned. She returns home to Naples to figure out the truth—about her mother, her family, and herself.
The Friend
Bountiful twists and turns will keep you guessing in this gripping story of international espionage. Jacob Seger couldn't be more excited to start his internship at the Swedish embassy in Beirut, Lebanon, a position that will bring him one step closer to his dream job. But everything changes the night he meets Yassim. Jacob begins a passionate affair with the handsome young Syrian man, and their relationship eclipses everything else in Jacob's life.
When Yassim is accused of being involved in terrorist activities, Jacob isn't sure who to trust. Meanwhile, lawyer Klara Walldeen reunites with her best friend Gabriella at a funeral in Stockholm, but their mourning morphs into terror when Gabi is arrested under suspicion of terrorist activity. As they strive to prove their loved ones' innocence, Jacob and Klara's storylines converge in a thrilling climax.
Sweet Little Lies
A London policewoman suspects her own father of heinous crimes in this breathless debut. Twenty years ago, a teenage girl named Maryanne Doyle went missing from the coast of Ireland. Cat Kinsella and her family had met the vanished girl just days earlier, and even as a child Cat never trusted her father's denial of knowing her whereabouts.
Now a Detective Constable with the Metropolitan Police Force, Cat thought she had left her troubled childhood in the past. But when she receives a strange phone call connecting Maryanne Doyle to the murder of a woman found near her father's London pub, Cat thinks that it might be time to pay her estranged father a visit…
The Labyrinth of the Spirits
Magical realism and the police procedural collide in this genre-bending novel by the author of The Shadow of the Wind. Alicia Gris was just nine years old when her parents were killed in the Spanish Civil War. Twenty years later, Alicia works for the secret police in 1950s Spain, during the era of fascist dictator Francisco Franco's rule.
Alicia is ready to move on, but her boss wants her to solve one last mystery: the disappearance of Mauricio Valls, Spain's Minister of Culture. Teaming up with her partner Juan Manuel Vargas, Alicia digs deeper into Franco's regime and uncovers a far-reaching conspiracy more horrifying than she ever imagined.
Too Close
Too Close is a debut psychological thriller book by Natalie Daniels, the pseudonym for a London-based actor and screenwriter. This dark story follows a psychiatrist's total immersion in the case of a patient institutionalized for an unspeakable crime. Diagnosed with dissociative amnesia, Connie can't remember what she did...or can she?
It all started when the wife and mother met her new neighbor Ness, an intoxicatingly beautiful woman who started to lean on Connie for support when her marriage crumbled. Dr. R. helps Connie recall her toxic relationship with Ness and retrace what happened to bring her here. As the story unravels, Dr. R. is disturbed to realize she identifies strongly with Connie, causing her to wonder about the nature of friendship, betrayal, and fidelity.
Related: 9 Chilling New Thrillers That Will Keep You on the Edge of Your Seat
I Spy
Written by British novelist Claire Kendal, I Spy tells the twisted story of Holly Lawrence. Holly once wanted to be a spy, but her training went disastrously awry when she was asked to spy on her own partner.
Now living in another part of the country under a pseudonym, Holly thinks she's well-hidden from danger...until she meets an oddly familiar mother and her two-year-old child, and begins to suspect that her cover has been blown. This thriller has plenty of twists and turns to keep you guessing until the very last page.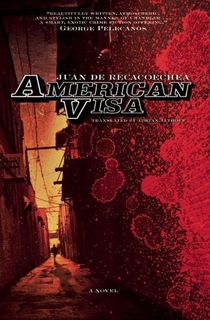 American Visa
A schoolteacher takes his passion for detective fiction a little too far in this Latin American noir novel. Mario Alvarez dreams of leaving his tiny Bolivian town to join his son in Miami. Finally, he takes the plunge and sets off on a desperate quest for an American visa—bringing with him a snazzy suit, fake papers, and a handful of gold nuggets.
When he gets to the city of La Paz, Mario hatches a plan to rob a wealthy gold dealer in order to sufficiently line his pockets for the trip to America. This decision draws him into a web of corruption and sets off a nerve-jangling game of cat and mouse.
Related: 9 Psychological Thrillers That Will Make You Trust No One
Kingdom of the Blind
Armand Gamache may be out of work, but crime hasn't slowed in Three Pines. The former head of the Sûreté du Québec, Quebec's provincial police force, Gamache has been suspended pending an investigation into a past mistake—a mistake that may lead to a wave of fatalities. A deadly narcotic slipped through Gamache's fingers when he was on the force, and it's about to hit the streets of Montreal.
While he's desperately trying to track down the drug, Gamache is embroiled in a confounding mystery: an elderly woman whom he's never met has named him an executor of her will. When another executor is murdered, Gamache races for answers in this bizarre case.
A Beautiful Place to Die
Set during the 1950s, A Beautiful Place to Die is a stunning crime novel that focuses on the simmering tensions of apartheid in South Africa. When an Afrikaner police officer is found murdered, Detective Emmanuel Cooper begins investigating the mysterious death.
He soon finds himself at odds with the powerful and biased Security Branch, which has its own idea of what happened and wants to use this opportunity to punish black communist rebels. Determined to get to the bottom of what really happened, Cooper continues to investigate in secret and discovers shocking truths about the late Captain Pretorius.
This post is sponsored by HarperCollins. Thank you for supporting our partners, who make it possible for Early Bird Books to continue publishing the book stories you love.
Featured photo: Johannes Plenio / Unsplash