It seems like only yesterday we were bawling our eyes out in the middle school bathroom over The Bridge of Terabithia. Whenever we see someone carrying a copy of Extremely Loud and Incredibly Close, we always want to yell, "Get ready to weep!" extremely loudly and incredibly close to their face. And don't even get us started on Sophie's Choice—if you've only seen the movie, the book is very much worth reading.
Why do people enjoy sad books?
It may seem strange to get pleasure out of reading a sad book—why not read something happy instead? But no one is happy all the time, and sad books are a good way to get a cathartic release.
Sad books may also remind people that they're not alone in their troubles. And besides, sometimes a sad ending makes for a better story!
If life has you needing an outlet (like a pillow to sob in) you're in luck with these sad books that'll have you crying until the last page. Bring on the tissues.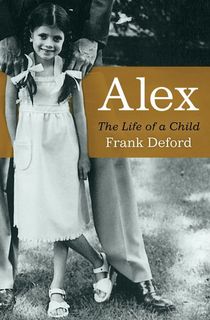 Alex
Alex Deford, much like other little girls, played with her friends, enjoyed family vacations, and went to school. Unlike other little girls, Alex only had a few years to live.
This heartbreaking memoir is an expansion of her father's journal, in which he chronicles Alex's bravery in the face of a certain, premature end to cystic fibrosis. Though incredibly said, Frank Deford's book is also a celebration of every cherished moment he spent with Alex, who passed away at the age of eight.
Bridge to Terabithia
In this classic childhood tearjerker, Jesse—an angry, depressed, and fearful boy—meets Leslie, a smart and outgoing tomboy. The two children invent Terabithia, a wooded sanctuary where they can escape from everyday hardships and school bullies.
Together, they're like the king and queen of their own little kingdom. Their friendship transforms Jesse's life into one full of happiness, bravery, and friendship—though an unexpected tragedy will change it even further.
The Lovely Bones
In 1973, 14-year-old Susie Salmon takes a shortcut home from school through the cornfield behind her neighborhood. She is never seen alive again. What follows is a tragic story of grief and recovery, as Susie's family struggles in the aftermath of her brutal murder.
Some people cope in different ways—especially her father, who becomes obsessed with catching her killer—and Susie watches them all from her vantage point in heaven. Now a major motion picture, The Lovely Bones is a devastating but hopeful look at love and loss that sticks with you long after the final page.
The Time Traveler's Wife
When the man you love is a time traveler who can't control when or where he goes, it can put quite a strain on relationship. This book does an excellent job of tugging at the heartstrings, as it tracks the lifelong—and very complicated—romance between Clare and the always-disappearing Henry.
My Sister's Keeper
You could say Anna Fitzgerald was a "planned" child. Planned in the sense that she was born for the specific purpose of donating blood and bone marrow to her sister, Kate, who is dying from leukemia. Anna spends her entire life being poked and prodded with needles—but will she risk her own life to save Kate's?
Atonement
In 1934, 13-year-old Briony witnesses a clandestine encounter between her older sister, Cecelia, and their family friend, Robbie. Without a firm grasp on adult intentions and relationships, she mistakes the incident for something it is not.
Her subsequent accusations ripple throughout everyone's lives, and McEwan follows each character as they cope with the destruction wrought by a young girl's horrible misunderstanding.
Orphan Train
Between 1853 and 1929, thousands of orphans were shipped from the overpopulated East Coast to supposedly better lives in the more spacious Midwest. The youngest and cutest of these children were adopted—but more often than not, they were taken in as indentured servants.
A tale of crushed hopes, resilience, and redemption, Orphan Train is a fictional take on this little-known but tragic slice of American history.
The Art of Racing in the Rain
Lab-terrier mix Enzo and his human owner go through life's ups and downs together. He may be a dog, but he's very intelligent and observant.
In fact, he tells their entire story in The Art of Dancing in the Rain—a bittersweet novel about love and companionship that will make you want to hug your pup extra tight.
The Boy in the Striped Pajamas
Nine-year-old Bruno is restless after his father, a Nazi commander, moves his family from Berlin to Poland. Bruno spends his idle hours trailing the fence behind his house, where he eventually encounters Shmuel—a boy who lives on the other side.
They start meeting at the fence often, forming a close bond but never fully understanding the other's situation. But this seemingly innocent friendship between two children is surrounded by adult evils that will lead both boys toward an unspeakable tragedy.
Revolutionary Road
Frank and April Wheeler are a shining example of the perfect American couple in the 1950s—young, beautiful, and the parents of two kids. But behind the closed door of their house on Revolutionary Road, their suburban bliss starts to feel the pressure of disappointments, secrets, and resentment. In an era that's usually remembered as a "better time," Frank and April's love story proves you can't always trust appearances.
One Day
After meeting on the night of their college graduation, Emma and Dexter agree to hang out (or at least chat) on every anniversary of their friendship. The passage of time brings new joys and hardships into their lives—from breakups to breakdowns—but the one constant is the love they have for each other. It should come as no surprise that they manage to overcome their obstacles and become a romantic couple, but what happens after that is a total curveball.
Extremely Loud and Incredibly Close
While mourning his father's death in the aftermath of 9/11, Oskar finds a mysterious key in his father's closet. The discovery jumpstarts an emotional adventure across New York City, as Oskar hunts for the corresponding locked box. Jonathan Safran Foer's story will touch anyone who's lost a loved one—and will give those still grieving some comfort during their journey toward recovery.
The Hate U Give
Starr Carter is a 16-year-old black student who is divided between the life she lives in her poor neighborhood and the time she spends in her upper class suburban prep school.
When 16-year-old Starr Carter watches her childhood friend die at the hands of police brutality, the precarious balance of her life snaps. Her friend's name is dragged through the mud, and while protesters flood the streets, the law and criminals alike attempt to intimidate Starr. And as Starr is the only one left alive who can say what truly unfolded during the confrontation, the future of the community rests in her hands.
Featured still from "The Boy in the Striped Pajamas" (2008), via Miramax Films