Our bookshelves may be full, but there are so many other ways to spread bookish love. From socks to mugs to pillows, from tote bags to journals to help you keep track of all things reading, these gifts all deserve a spot in your home. Whether you're shopping for yourself or the best book nerd in your life, here are 21 gifts for book nerds that guarantee a good ending.
Never lose your library card with these socks on your feet. From book lover experts Out of Print, these ankle socks will keep your love for the library alive no matter whether you're home or among the stacks.
Top 100 Books Scratch-Off Poster
Don't know where to turn for your next read? Itching to finally get around to some long-pushed-off classics? With this scratch-off poster, you'll know exactly how many more must-reads you need to get started on. And by the time you finish all 100, you'll have a beautiful poster to proudly display.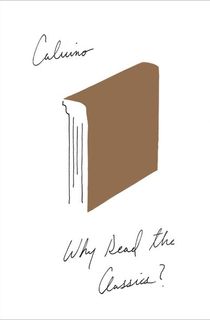 Why Read the Classics?
Any lit lover will be excited to have another book to add to their collection—especially if it's a book about book, and even more so if it's written by someone as esteemed as Italo Calvino. This work of literary criticism argues that the classics are more than just works of cultural value; they're "personal touchstones" that readers return to over and over again so we may "understand the world and ourselves." What book nerd wouldn't agree with that?
Bookmarks Are For Quitters Mug
When you're looking for the perfect gift for book nerds, you can never go wrong with a mug. Make your position on binge reading known with this metal mug. Who needs a bookmark when you can just never put down your book instead?
Track all your reading progress and goals with this journal. Whether you're writing full book reviews, solidifying that TBR list, or making a holiday wish list, any true book nerd will love this gift. After all, organization is key to the perfect bookshelf.
Love lending your books out, but afraid you'll never get them back? Never lose another beloved copy of your favorite classic with this personal library kit. Give every book you own some extra love and the library treatment, and make it aesthetically pleasing at the same time.
Antique Books Tissue Dispenser
Spruce up that boring old tissue box and give all your visitors the illusion of antiquity with this antique book tissue dispenser. Next time you sneeze, you'll be grabbing for the nearest book.
Interesting Words Coffee Table Book
Everyone's vocabulary could use some spicing up. With this coffee table book filled with interesting words from languages around the world, book nerds can find new ways to integrate the craziest of them all into everyday conversations. We bet you'll find this book to be a smultronstӓlle.
Book sleeves are ideal for protecting your favorite book or ereader while on the go, allowing readers to stylishly protect their treasures from bent pages, dinged covers, or cracked screens. This one features a zip closure and an extra outside packet for things like your phone and pens, plus an adorable pattern with cats, mugs, and of course, books.
Cat-Shaped Bookmark Clips
If you can't seem to stop losing your bookmark, your papers, or hey, even your whole book sometimes, these cat-shaped clips have come to the rescue. Whether you're marking your spot in your current read or holding that essay together, either way, you've got some not-so-furry friends by your side.
Related: The Best Cat Books for Cat Lovers
We may not be able to wander the stacks and shelves of our local library or favorite bookstore for hours right now, but that doesn't mean we can't find other ways to breathe in that smell we love so dearly. With this Charles Dickens-inspired soy wax library candle smelling of tangerine, juniper and clove, your home or your bedroom can become your own little treasure trove of books.
(Note: If Dickens isn't your thing, there are also scents inspired by Jane Austen, Shakespeare, and more!)
"Just One More Chapter" Throw Pillow
Sometimes, we cant keep our promises. Especially when we promise we'll read just one more chapter. If your reading nook needs some new decor, let this throw pillow keep you accountable for a bit.
Book Stack Tote w/ Interior Pocket
Lugging around books can get tiring. That's one of the reasons why we love ebooks, and this adorable tote that still screams "I love books," without the burden of actually having to carry said books. Save the earth and your back from disposable bags and bring this tote instead.
Related: How Many Books Can a Kindle Hold?
We can't imagine a cuter stocking stuffer than this Nessie bookmark. The elusive sea creature is the ideal gift to hold your spot in any book!
Make date night, girls' night, or game night a literary endeavor with this guidebook to the best literary and literary-inspired cocktails. Complete with 65 recipes and brimming with history all book nerds will love to learn, this is the addition your kitchen needs.
So Many Books, So Little Time Socks
Book nerds, assemble! If you're looking for a gift for the reader in your life who can't get over how many books there are in the world to read, these are the socks they need. There are so many books, and so little time, but don't worry—we know how to carve some out.
Whether you're anticipating the cold weather and need a new scarf to bundle up in or you're in the market for a bookish gift for the teacher, librarian or book club friends in your life, this bookshelf scarf is just the addition any closet needs.
Superwoman Floating Shelf
It's a bird! It's a plane! It's a bookshelf! Whether you're a die-hard superhero fan or have a burgeoning one in your life, this invisible bookshelf will hold up even the mightiest, heaviest, tallest of book stacks.
Related: 20 Biographies of Remarkable Women
Make all your favorite books into new favorite meals. From literary delights to culinary delights, this cookbook will take you from old classics to new tales with dishes and meals mentioned in and inspired by books. Book nerds and food nerds alike will be clamoring after this gift.
Related: The Best Cookbooks for Beginners, Chefs, and Everyone Else
Library Card Zipper Pouch
Keep all your pens, pencils, sticky tabs, and more in one convenient place with this library card themed zipper pouch. Make you when you whip this one out of your backpack, everyone knows exactly what you do in your spare time.
While this definitely isn't the cheapest item on this list, your very own little free library is something every book nerd dreams of. This official kit from the nonprofit Little Free Library comes with a registration and charter sign in, allowing stewards to access the World Map and official Facebook group.