There's never a bad time to dive into the gorgeous novels of José Saramago. The Portuguese author's writing is full of biting satire, rich explorations of humanity, and beautiful glimpses at history. Saramago also has a knack for making surreal situations seem normal, and for making the impossible seem inevitable. It's a skill that's earned him comparisons to authors like George Orwell—and the Nobel Prize for Literature in 1998.
Though José Saramago passed away in 2010, his books are timeless. To many, they may seem even more relevant as we adjust to the new realities that come with quarantine and coronavirus. For a fresh new look at the world around you, even as you sit in isolation at home, here are 10 incredible José Saramago books to broaden your horizons.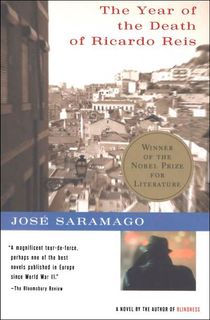 The Year of the Death of Ricardo Reis
This humorous and bold novel takes place in Portugal in the 1930s. A civil war with fascist roots is brewing as dictator Antonio de Oliveira Salazar rises to power. Meanwhile, Dr. Ricardo Reis returns home from travels through Brazil upon word that the beloved poet Fernando Pessoa has passed away. As Reis abandons his practice, takes up his own poetry, juggles affairs with two women, and coasts through a world of new and dangerous politics, he is followed by the ghost of Pessoa himself.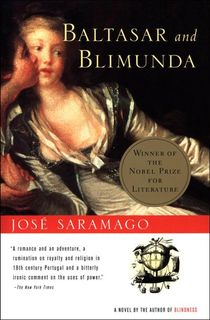 Baltasar and Blimunda
In 1711 Portugal, multiple storylines of chaos weave together. The King promises to build a lavish new convent if the Church convinces God to give him an heir to the throne, while a lonesome priest works tirelessly on a flying machine steeped in heresy. Romance burns bright yet tragic between a young couple brought together by a twist of fate. And through it all, the horrors of the Inquisition rage on around the people of Portugal, who create spectacles out of violence.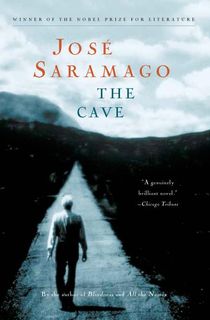 The Cave
In a small village that borders The Center, an old potter, Cipriano Algor, lives with his daughter, Marta, and her husband, Marçal. Inside of The Center is a network of shops, apartments, and offices guarded by security—including Marçal himself. When Cipriano's humble business of pots and jugs is destroyed by the rise in plastic goods, the family is forced to pack up and move into the center. But below their new home they hear the strange sounds of digging, and the search for answers will change this family's lives forever.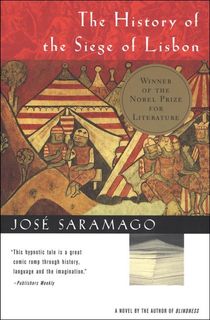 The History of the Siege of Lisbon
When Raimundo Silva changes one tiny word in an account of a king's siege of Lisbon, he alters the whole story as it is known. But when his editor, Maria Sara, suggests that together they take this small transgression further, they disregard facts to build new histories together.
Through magical realism and an erotic story of connection, the past is changed and modified from a history that was debatable to begin with. As the past and future collide, so too do fact and fiction.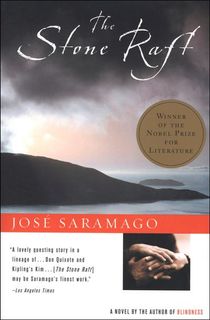 The Stone Raft
In this allegorical novel, the Iberian Peninsula breaks off from Europe with no explicable cause or warning. As it drifts through the sea, its residents begin to panic. Yet five people on this strange new island are drawn to each other through strange happenings, political floundering, spiritual connections, and sexual discoveries. These five individuals become forever intertwined by fate's forced new perspective on living life adrift.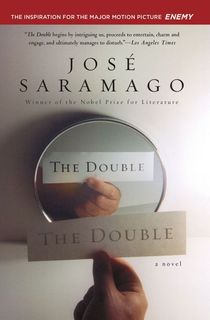 The Double
At the suggestion of his colleagues, Tertuliano Máximo Afonso rents a specific video to try and pull himself out of the depression that has followed him since his divorce. After watching the film, he remains unimpressed. But when he catches a glimpse of the film replaying in the middle of the night, he sees a man on screen that is the spitting image of himself, only younger, healthier and more mustachioed. Despite his misgivings, he sets off to track down this mysterious double out in the real world.
This novel served as inspiration for the film , starring Jake Gyllenhaal.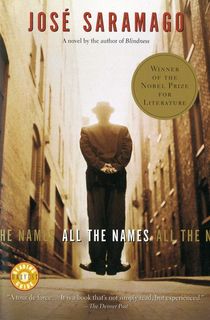 All the Names
José Saramago spins a metaphysical thriller full of loneliness, chance, and love in this tale about Senhor José, who works a low-ranking position at the Central Registry. José sees nothing past the shelves which house the records of both the living and the dead.
But when the middle-aged man stumbles across the documents of an anonymous woman, he finds himself inexplicably obsessed. He uses every resource he can to try and track this young woman down, and the closer he gets, the more he learns about himself, too.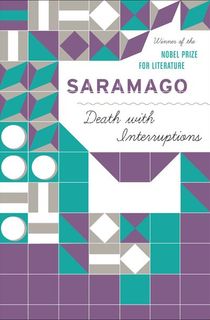 Death with Interruptions
On the first day of a new year, not a single person across the world dies. As politicians, morticians, religious leaders and the like sort through disgruntlement, the rest of mankind celebrates. But soon it's clear that while the world has achieved eternal life, they are left with the burden and strains of caring for the permanently sick and undying.
Meanwhile, Death sits tucked away in her apartment, observing her experiment. Maybe she never has to bring an end to another human life ever again. Maybe she herself could become human. Maybe she could fall in love.
Blindness
In this international bestseller, a city is afflicted with a merciless plague that causes blindness. The first to be afflicted are sent to quarantine in a repurposed mental hospital. Among them are a doctor and his seeing wife, who lied in order to stay with her husband.
Conditions inside the hospital grow worse as the disease spreads throughout the outside world as well, and eventually the doctor's wife leads a small group to (relative) safety. A startling look at loss and cruelty in humankind, the novel serves as a parable about the worst things people can do to one another—and the beauty that comes from those who help.
Seeing
In this satirical follow up to Blindness, set four years after the plague that struck blindness upon a city, a terrible rain keeps the polling stations empty on the day of an election. When the rain finally passes and the voters come out in droves, politicians soon discover that most of the ballots were left blank. The citizens are buzzing with thoughts of rebellion, and the authorities believe the mysterious woman who retained her sight may be their leader. What changes are to come, and what dangers may follow on its path?