For those of us lucky enough to not struggle with mental illness, it can be difficult to understand what some people are going through. One of the best ways to understand is to read memoirs from people who experience mental issues.
Each May is Mental Health Awareness Month, but these books are worth reading any time of the year. Here's a look at 10 memoirs dealing with various aspects of mental health, from writers who've been there.
Related: The 6 Best Books for Anxiety
First, We Make the Beast Beautiful
Journalist Wilson approaches anxiety—her own and the general condition—from a place not of wanting to fix it, but to embrace it. Drawing wisdom from as wide a range of sources as the Dalai Lama and Louise Hay, Wilson weaves her own grappling with anxiety with its treatment, offering readers suggestions throughout the book, on ways to not overcome, but make peace with anxiety.
Wilson's openness about how anxiety and panic attacks manifest for her along with her gentle ideas for accepting anxiety and its role in our lives makes this part memoir, part guide, as she draws wisdom from those she's interviewed and her own research, and delivers it in bite-sized bits of advice.
Related: 7 Books to Help You Deal with Trauma
I'm Telling the Truth But I'm Lying
In a captivating style often belying her past as a poet, Ikpi shares her journey from her childhood in Nigeria, to immigrating to the United States, and her struggles with relationships and a slow unraveling that results in a hospital stay. Often switching into second and third person, she offers a vivid portrayal of a hypomania, depression, bipolar II and anxiety.
Ikpi shares the ongoing ways her mental health issues pervade her everyday life, sometimes minute by minute, to instill in readers their around-the-clock nature and the perniciousness of her anxious insomniac hours, as well as the challenges of finding medication whose side effects are tolerable.
Related: 12 Powerful Books About Depression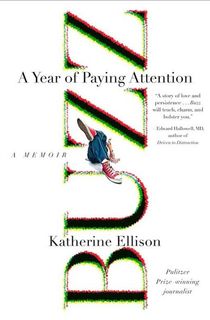 Buzz
We've all heard the stories of self-sacrificing mothers bravely tending to their challenging children. Katherine Ellison offers a different kind of tale. Shortly after Ellison, a Pulitzer Prize-winning investigative reporter, and her high-spirited twelve-year-old son, Buzz, were both diagnosed with attention deficit/hyperactivity disorder, she found herself making such a hash of parenting that the two of them faced three alternatives: he'd go to boarding school; she'd go AWOL; or they'd make it their full-time job to work out their problems together.
They chose option number three and proceeded into the confusing world of the modern mental health industry—and she recounts the story, along with some helpful insights, in this "funny, well-written memoir" (Booklist).
Related: 10 Moving Biographies and Memoirs
Broken (in the best possible way)
Lawson, who rose to fame with her humorous writing at The Bloggess, and later with bestselling memoirs Let's Pretend This Never Happened and Furiously Happy, returns with more musings on mental health in Broken. She manages to turn often dark situations into something comic yet relatable, but also speaks plainly to the direness of the healthcare system with an open letter to her insurance company, pleading for them to cover the medication she needs to stay alive.
Lawson offers vivid insights into how she navigates the constantly moving target of her depression and how it plays out in her marriage and daily life, and what it's like to get transcranial magnetic stimulation (TMS) treatment. Lawson alternates from humorous anecdotes and musings to more straightforward assessments of what it's like to "go to sleep not knowing if I'd wake up depressed or 'normal.'"
The Hilarious World of Depression
Moe, the former host of the podcast of the same name, details his career in radio alongside his mental health struggles and the aftermath of his brother's suicide, which plagues him with guilt, since he believes he's responsible. Moe explores clinical depression (or "Clinny D") and being a "saddie" with an approach that's heartfelt and weaves in appropriately self-mocking humor, interspersing his personal journey with stories comedian guests have shared on the podcast.
Moe takes readers into his therapy sessions, which he credits with helping him learn coping skills, and makes the case that depression is a topic worth discussing, in public and private. He breaks down how his depressed state of mind has influenced all aspects of his life, from the joyous to the dark. Moe excels at exploring how his path toward mental wellness has not been a continuous rise, but a push/pull, where he struggles to take his medication regularly, walking readers through his learning curves in order to impart hard-won wisdom.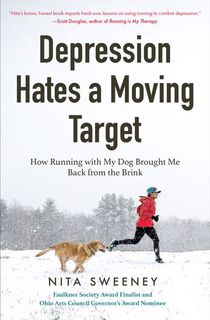 Depression Hates a Moving Target
In this memoir, winner of the Maxwell Award from the Dog Writers Association of America, Sweeney tells her story of the power of running to help change her life. Before she discovered running, Nita Sweeney was forty-nine years old, chronically depressed, occasionally manic, and unable to jog for more than sixty seconds at a time.
Using exercise, Nita discovered an inner strength she didn't know she possessed, and with the help of her canine companion, she found herself on the way to completing her first marathon. In her memoir, Sweeney shares how she overcame emotional and physical challenges to finish the race and come back from the brink.
Marbles: Mania, Depression, Michelangelo and Me
In graphic memoir Marbles, cartoonist Forney explores the connection between art and mental health in the wake of her diagnosis with bipolar disorder, drawing (literal) lines between her experience and artists of the past such as Vincent Van Gogh and Georgia O'Keeffe. In what the U.S. National Library of Medicine calls "graphic medicine," she takes her personal story and explains via what mood disorders are, the high cost of treatment, and more.
With evocative illustrations (such as frantic rats in her brain during one episode), she delves into her debate over whether taking the lithium recommended by her psychiatrist will quell her artistic talent, and the effects of taking it and other medications. Forney takes readers through the support system she creates of people she can be truly honest with, and physical movement like yoga and swimming and ongoing therapy, along with an examination of the "crazy artist" stereotype and whether believing in it actually serves a useful purpose.
Related: The 12 Best Graphic Novels of All Time for Lit Lovers
The Collected Schizophrenias
In these nuanced essays, Wang explores not only her own experience with schizoaffective disorder, which causes her to get kicked out of Yale, but also the treatment of schizophrenia in society and the medical community. Wang questions many of our culture's commonly held beliefs about schizophrenia, and sharply explores how they get internalized by and used against mental health patients.
Wang writes with a clear-eyed take on everything from the experience of being involuntarily committed to whether to have children, and also takes a broad-ranging look at schizophrenia on film and in real-life events such as the Slender Man killing.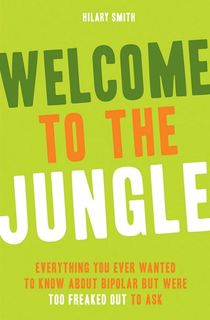 Welcome to the Jungle
This "bipolar guide" is the book Smith wishes she'd been given when she was first diagnosed with bipolar disorder. It answers questions, points to resources, and most of all, comes from someone who understands what it's like to be thrown off course by an overwhelming mental health issue—and what to do afterwards. Smith covers everything from living with triggers to recovering from mental breakdowns, manic moments, and major depressive episodes and provides resources for those dealing with their own bipolar diagnoses.
The Way She Feels: My Life on the Borderline in Pictures and Pieces
In this forthcoming graphic memoir, Cook examines what borderline personality disorder has meant for her life from her teenage stay at a residential treatment center through adulthood, in an accessible, easy-to-read mix of prose, drawings and lists. She examines her "chronic feeling of emptiness," possibly stemming from trauma she experienced during birth, and how that emptiness shows up in everyday situations (such as feeling excluded when friends don't invited her to join them at a sleepover, even though they'd been planning to).
She offers an unflinching look at why she became a cutter, which later morphs into a habit of plucking body hair, and the tools she relies on to, as she puts it, "cope with the things that are trying to kill me." Often, it's her shorter passages, such as a serious of apology notes, that pack a powerful emotional punch, with a style that will especially speak to millennials and younger readers.