A year really flies by fast, especially when it's filled with good books! This year we've gotten returns to our favorite fiction, like with Margaret Atwood's sequel to The Handmaid's Tale. We've also gotten wonderfully eccentric debut novels like Mostly Dead Things from Kristen Arnett. Whether you're a nonfiction reader, a fantasy fan, or a thriller buff, 2019 has delivered captivating stories that will stick with you through the new decade.
If your New Year's resolution is to fill your life with more incredible reads, then this list is for you. Here are ten of the best books of 2019.
Wild Game
This memoir is a captivating and bewitching read that reveals family secrets with crisp, unflinching prose. Adrienne Brodeur writes on the complicated web of her mother's marital affair, and how she became an accomplice at fourteen years old. Malabar—Adrienne's mother—tasked her daughter with coordinating and concealing her relationship with her husband's best friend, drawing Adrienne in with the lure of importance and the warmth of attention. However, Malabar's indiscretions and the role Adrienne stepped up to play would come to have disastrous consequences for those involved for years to come.
In adulthood, Adrienne found herself in a rocky marriage. Further impacted by the guilt she harbored, she sank into a deep depression. Her journey to reclaiming her life took years. Exploring strength, resilience, guilt, lies, and the vulnerability of choosing to love, Wild Game is a gripping account from beginning to end.
The Water Dancer
This novel tightly interweaves historical fiction and fantasy, delivering a backdrop of rich which heightens the harrowing atrocities of slavery in the American south. Hiram Walker was born to an enslaved black woman and the white man who claimed ownership over her. When Hiram's mother is sold off, he loses all memory of her, only to gain a strange power in her place. This power he struggles to understand saves his life years later, and drives him to escape his bondage for the north, where he takes a place in the Underground Railroad.
The Testaments
This sequel to The Handmaid's Tale is set more than fifteen years after the events of its predecessor. The Republic of Gilead still stands in power in The Testaments, but that may not be the case for long. This gripping follow up is told from three different perspectives: two young women who are a part of the first generation to come of age under the theocratic regime, and an older woman with a complex past within Gilead. As these pivotal women test the boundaries of what they're willing to do, Atwood exposes the guts and gears of the workings of Gilead.
Sugar Run
Set in the rural landscape of West Virginia, this novel follows the precarious personal journey of Jodi McCarty. Jodi was only seventeen years old when she was sent to prison, and now eighteen years later she's released to freedom with no real place left to go. Putting off a return to her Appalachian home, Jodie sets out to make amends for the things she did more than half a lifetime ago. Along the way she falls in love with a mother of three with her own past, and finds that staying on the straight and narrow isn't as easy as she'd hoped.
The World That We Knew
Alice Hoffman brings Jewish folklore to life in this enthralling historical fantasy. Set during World War II, the story begins with Hanni Kohn, who knows the only way to keep her daughter Lea safe from the Nazi threat is to send her away. Ettie, the daughter of a rabbi, provides yet more hope for Hanni when she creates a golem named Ava whose purpose is to keep Lea out of harm's way. Ettie, Ava, and Lea become linked from this moment on—fated to cross paths again.
Ava and Lea travel across France to safety, while Ettie waits in hiding to rise as a fighter. In a battle between good and evil, everyone must make sacrifices, but how much can be lost?
In the Full Light of the Sun
Clare Clark's evocative historical fiction novel, In The Full Light of the Sun, is based on a true story. In the tumultuous period of the 1920s, three Berliners find themselves enmeshed in an art scandal. An art student, an art connoisseur, and an art dealer uncover thirty-two never-before-seen Vincent Van Gogh paintings—they just happen to be fakes. Clark dives beautifully into the trio's hopes and insecurities, fleshing out a context of their relationships and the lies that they tell themselves.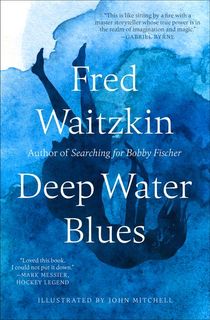 Deep Water Blues
Inspired by a true story, Deep Water Blues weaves the tale of a violent struggle for a Bahamian paradise. Bobby Little crafted a booming tourist attraction on the beautiful island of Rum Cay, complete with fishing, French cuisine, cognac, and the real draw: the charming, life of the party presence of Bobby himself. But after a tragedy on the island drives tourists away, Bobby falls on even worse times when a vicious entrepreneur engages him in a battle over control of the docks. Bobby's paradise becomes a bloody hell—one he'll be lucky to escape with his life.
The Favorite Daughter
Set in a gated community paradise in Southern California, Kaira Rouda's domestic suspense thriller turns perfection on its head. After Jane Harris' beloved eldest daughter, Mary, died in a tragic accident, Jane sunk into a depression that kept her rooted in her own house. However, as the one-year anniversary of Mary's death and the high school graduation of her youngest daughter, Betsy, is fast approaching, Jane is determined to take back control of her life. But that's easier said than done.
Both Betsy and Jane's husband, David, are distant. David's been working suspiciously long hours, and Betsy comes off as secretive. It's bad enough that her family's been changing right under her nose, but could it be that things were never as they seemed? Jane slowly comes to find that there are things about Mary and the circumstances of her death she never could have imagined.
Black Leopard, Red Wolf
Inspired in part by African history and mythology, Black Leopard, Red Wolf is a fresh and unique fantasy adventure that is not only one of the best books of 2019, but perhaps of the entire decade. Tracker is an acclaimed hunter with an incredible nose, hired to find a boy who's been missing for three years. Thrown together with a ragtag group full of odd characters with their own hidden pasts and unique abilities, Tracker leads the group through rivers and jungles, straight into the heart of danger. As vicious creatures descend upon the group, Tracker must discern why this strange boy he's been tasked to find is so important.
Mostly Dead Things
After Jessa-Lynn Morton discovers her father dead from suicide, she takes control of the family taxidermy business. Unfortunately, the rest of her family is falling apart. Her mother has developed a habit of sneaking into the taxidermy shop to construct risqué art pieces with the preserved animals, her brother Milo shrinks into himself, and Milo's wife Brynn—who Jessa is madly in love with—leaves everyone behind without warning. Jessa's life only descends further and further into chaos as she gets into business that is not strictly legal.
Arnett's comedically dark story walks a careful balance between bizarre and heart-wrenching. As Jessa tries to navigate her place within her family, readers are treated to a poignant and unusual take on love and grief.
Featured image from cover of "The Water Dancer" by Ta-Nehisi Coates