Do you find yourself saying "I would love to know more about [insert interesting subject here]?" All the time? Well, here is your chance. These 25 must-read books make for great reading and self-education. Whether you're a die-hard science fiction fan or a history nerd, these must-read books defy categorization and genre. Spend some time tackling these essential reads, and soon you'll be your best, most well-read self.
West with the Night
If you're looking for adventure, this memoir by the first woman to fly across the Atlantic Ocean has it in spades. Beryl Markham had an unconventional childhood growing up in Kenya in the early 1900s. Her life in Africa allowed her to pursue her adventurous spirit, train racehorses, and become an avid pilot—a lifestyle that would have been difficult had she and her father remained in England. National Geographic ranked West with the Night #8 in their 100 Greatest Adventure Books of All Time list, and Hemingway called it "a bloody wonderful book."
The Forever War
This classic science fiction novel about a never-ending intergalactic war has been widely accepted as the author's response to the Vietnam War. Haldeman himself fought in Vietnam, where he was wounded and received a Purple Heart. His experiences in Vietnam influenced a large part of his fiction, and in The Forever War, he captures the alienation that soldiers feel returning from combat to daily life. This timeless book transcends the genre; as William Gibson wrote, "To say that The Forever War is the best science fiction war novel ever written is to damn it with faint praise … as fine and woundingly genuine a war story as any I've read."
Revolution from Within
Women across many generations credit this book with changing their outlook and helping them to accept themselves. Gloria Steinem makes clear that internal change and external political change are powerfully linked, and neither is possible without the other. Part personal stories and part revolutionary guide, Revolution will rock your world view.
The Prince of Tides
This classic Southern novel by the late great Pat Conroy is perfect for anyone who loves an epic family drama with a large side-serving of romance. Tom Wingo and his sister Savannah have tried their best to move on from their abusive upbringing and make the best of their lives—but it takes a trip to New York and the help of a therapist to make Tom realize the only way to triumph over his demons is to confront them head-on.
The Fall of Japan
For those who have always wanted to learn more about the Pacific arena of WWII, this essential history from William Craig is told from both Japanese and American perspectives. In this gripping account of the final weeks of the war in midsummer 1945, Japanese generals were still holding on to hope that the Axis powers would prevail. From the bombing of Pearl Harbor to America's agonizing decision to drop the atom bombs, The Fall of Japan is a fascinating but harrowing read.
Life at the Dakota
Though most know Manhattan's Dakota building as the tragic backdrop of the murder of John Lennon, this building has seen its fair share of history since it was built in 1884, back when the Upper West Side was considered the wrong side of the tracks. In this fascinating account by Stephen Birmingham, life inside the Dakota, with its motley crew of characters, reflects the ever-changing cultural landscape of New York City itself.
The Color Purple
Alice Walker's groundbreaking, Pulitzer Prize–winning novel tells the story of the lives of a group of African-American women in rural Georgia. The unflinching look at the violence, sexism, and racism in these women's lives made The Color Purple one of the most censored and challenged books by the American Library Association for nearly a decade. But Walker's novel is clearly a work of genius that marries history and storytelling into an anthem for social change.
Want more of the classics? Sign up for the Early Bird Books newsletter and get the best daily ebook deals delivered straight to your inbox.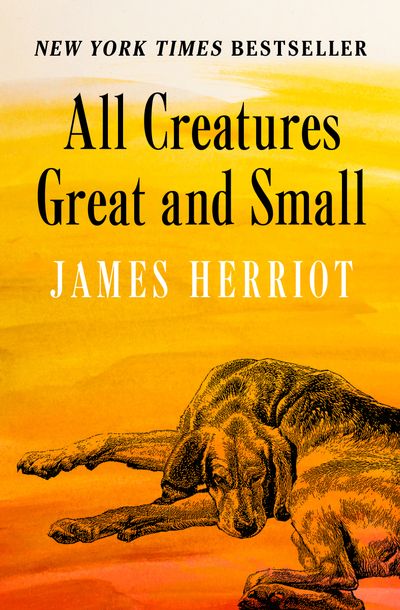 All Creatures Great and Small
Most will remember the delightful British television series of the same name—why not read the book that started it all? Just out of veterinary school, the young James Herriot takes up a post in rural Yorkshire, quickly realizing that real life out in the field (or, in this case on the farm) is much more of a challenge than those he faced in the classroom. For readers interested in farm life, animal husbandry, botany, or the people who live off the land, this charming book is to be cherished for the ages.
North and South
In the first book in this enormously popular Civil War trilogy, John Jakes introduces readers to a country divided through the stories of two families: the rice-growing Mains of South Carolina and the iron-working Hazards of Pennsylvania. If historical fiction is your go-to genre, you can't go wrong with Jakes' epic trilogy, an intimate portrait of North and South from before the Civil War through the Reconstruction era.
Upstairs at the White House
From 1957 to 1969, J.B. West was the "chief usher" at the White House, responsible for all the daily events, including weddings, parties, and funerals. Together with the First Ladies, West supervised the White House staff and oversaw renovations and additions to the grounds through the terms of six presidents. One of those first ladies was Jackie Kennedy—and she called West "one of the most extraordinary men I have ever met." Take a look inside the walls of 1600 Pennsylvania Avenue from the man who ran the behind-the-scenes show.
Fear of Flying
Erica Jong's blockbuster feminist novel became a literary sensation when it was first published in 1973 (coincidentally the same year of the Supreme Court's Roe v. Wade decision), making waves with its upfront depiction of female sexuality, desire and independence. It follows Isadora, the wife of a psychoanalyst as she grapples with her desire for another man and searches for a sense of her true self within her marriage. While many similar novels came later, none have become the worldwide, cultural phenomenon of Fear of Flying.
The Last Jews in Berlin
In this thrilling and little-known true story, author Leonard Gross details the stories of a dozen Jewish men and women who spent the final months of World War II in hiding, many in plain sight of the Nazis. This moving and suspenseful account will leave you in awe of their resourcefulness, bravery, and luck to survive when countless others were unable.
Forever, Erma
Celebrated humorist Erma Bombeck is beloved for her ability to find the comedy in the everyday experiences of being a wife and mother, stories and mishaps that many readers can relate to. A regular contributor to publications such as Good Housekeeping, Reader's Digest and Redbook, Bombeck's hilarious stories from the world of parenting paved the way for some of the most popular parenting blogs today such as dooce and The Bloggess.
We Were Soldiers Once . . . and Young
This powerful New York Times bestseller offers a devastating account of two of the earliest and most ruthless battles of the Vietnam War. Lt. General Moore and Joseph L. Galloway—the only journalist on the ground throughout the war—interviewed hundreds of soldiers from both sides to create a revealing look at humanity at its most heroic and most terrible. The basis for the movie starring Mel Gibson, We Were Soldiers Once…and Young is one of the definitive books on the Vietnam War, "written the way military history should be written" (H. Norman Schwarzkopf).
The Group
All-female ensemble dramas are everywhere today, from the bestseller table at your local bookstore to your Netflix queue. This popular format would not be possible without Mary McCarthy's The Group. Published in 1963, it follows a group of Vassar graduates as they navigate adult life in New York City and was one of the first novels to deal openly with female sexuality and contraception. With admirers from Candace Bushnell to Hilary Mantel, The Group is just as compelling as it was when it was first published.
Crazy Horse and Custer
This dual biography of Crazy Horse, the leader of the Oglala Sioux and General Custer, the cavalry general, is the epitome of a classic American history book. Award-winning, New York Times bestselling author Stephen Ambrose provides a thorough account of their lives before their showdown at the Battle of Little Bighorn, proving that both men had struggled as warriors and become leaders with much responsibility at early ages—and highlighting just how much these two enemies had in common.
Way Station
Clifford Simak's science fiction classic Way Station tells of another intergalactic conflict, this time between humans and aliens. When our hero, Enoch Wallace, travels through space to communicate with aliens, the U.S. government becomes suspicious when he returns to Earth and seems to stop aging for 100 years. What the American government knows or claims not to know reflects a sign of the times—Way Station was written during the Cold War, and echoes the paranoia and anxiety that crippled both America and Russia for nearly 50 years.
The Good Earth
American writer Pearl S. Buck drew on her experiences growing up in Zienjiang, China, as the daughter of missionaries. Her 1931 novel, The Good Earth, was a sensation—the bestselling novel in both 1931 and 1932, it won the Pulitzer Prize and has even been credited with bringing the U.S. and China to see each other as allies throughout WWII. The novel, which tells the story of a Chinese village before WWI, was adapted into a successful film in 1937, and raised awareness and interest in China in the United States. Buck became the first woman to win the Nobel Prize for Literature, and dedicated her life to writing about the rights of women and minority groups, becoming a proponent for mixed-race adoption.
Business Adventures
Bill Gates called John Brooks' Business Adventures "the best business book I've ever read," and if it's good enough for Bill Gates, then it's worth reading! Published in 1969, these "12 classic tales from the world of Wall Street" investigate major corporations like Xerox and General Electric to discover what—and who—make them so successful. Brooks' accessible and witty writing style make these business adventures a fascinating read, whether you're familiar with the great Stock Market crash of 1962 or just eager to improve your business prowess.
The Valhalla Exchange
Blend your love of WWII history and spy novels with Jack Higgins' The Valhalla Exchange. In this gripping espionage thriller, a journalist tracks down Hitler's secretary Martin Bormann, who escaped shortly before the Allies liberated Berlin, taking five POWs with him. If the journalist can find Bormann, he can discover the fate of those five POWs as well—but what he discovers will shake him to the core, even 31 years later.
Bury My Heart at Wounded Knee
Since its publication in 1970, Dee Brown's Bury My Heart at Wounded Knee has become a staple of American history, a devastating account of the destruction of the Native Americans during the second half of the 19th century. For any reader who is looking to confront the demons of our nation's past, Bury My Heart at Wounded Knee is an unflinching and elegiac chronicle of the Native people, told through their own stories.
Parable of the Sower
This groundbreaking and eerily prescient dystopian novel from multiple Hugo and Nebula award winner Octavia Butler offers a terrifying vision of our potential future—but also one of hope. Set in an alternate Los Angeles, Lauren Olamina is a young woman with hyperempathy, a condition that makes her sensitive to the pain of others. She and her family survive within the walls of the city's remaining safe neighborhood until tragedy forces Lauren into a world on the brink of chaos.
Deep Summer
The first in a trilogy, this unforgettable historical novel about the late eighteenth-century settlers of the Louisiana wilderness offers a captivating read that's rich in history and romance. Set against the backdrop of historic events, such as the Louisiana Purchase, this bestselling chronicle of the Larne family's saga through poverty and wealth, betrayal and forgiveness, is perfect for fans of Margaret Mitchell.
The Lord Peter Wimsey Mysteries
One of the Golden Age "Queens of Crime," Dorothy L. Sayers is best known for her acclaimed mystery series featuring British aristocrat and sleuth Lord Peter Wimsey. A World War I veteran who collects rare books, samples fine wines, and solves crimes, Wimsey is the quintessential English gentleman detective. This volume of the first three books in Sayers' beloved and elegant series is a perfect introduction for new readers.
The Ice Storm
The basis for the award-winning film starring Sigourney Weaver and Tobey Maguire, The Ice Storm is the bestselling novel that launched Rick Moody's career. Set in the affluent town of New Canaan, CT, the novel centers on a family's unraveling over the course of one night during the winter of 1973. With gorgeous prose, Moody creates a bleak yet compassionate portrayal of the 1970s suburban wasteland, from latchkey kids to key parties, as a storm, both literal and symbolic, tears through.
Want more of the classics? Sign up for the Early Bird Books newsletter and get the best daily ebook deals delivered straight to your inbox.
Featured Image: "The Color Purple" (1985), via Warner Bros.
---